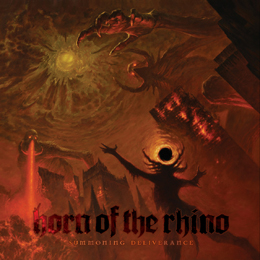 Release Date:
Monday, September 22, 2014
Horn Of The Rhino return with their fourth album, and once again it gets released by Czech label Doomentia Records; why changing a winning team must be their motto. The label even re-issued material from this band when they were acting under the old moniker Rhino. This experienced Spanish trio (guitarist / vocalist Javier Galvez, bassist Sergio Robles and drummer Julen Gil) recorded these ten songs at the Koba Studio, and the material shamelessly goes on in the vein of what made them so strong.
After a short (uninspired) intro (Awaiting The Scourge), Horn Of The Rhino bring their massive, grungy and grumpy Sludge / Doom / Stoner hybrid, divided into almost two hands full of pretty length compositions (in between six and eight and a half minutes each). Once again it is unique how these guys are able to combine apocalyptic-misanthropic atmospheres, intelligent melodies, and asphyxiating heaviness without lacking coherence. More than once, this material varies in speed and structure, focusing on craftsmanship and persuasion. On top of it, Horn Of The Rhino do inject their pounding ballads with details reminiscent to acts like Carneia, Danzig, Saint Vitus / Wino, Soundgarden / Alice In Chains, Kyuss and Goatsnake.
There is a hidden track on my copy (I have no idea whether this goes for all copies), which is an acoustic song in the vein of some of the acoustic material provided via Belgium's Consouling Sounds - think Baker, Amenra etc.
For fans of: Rhino evidently, as well as Lair Of The Minotaur, Serpent Omega, EyeHateGod, High On Fire, Kylesa and the likes…