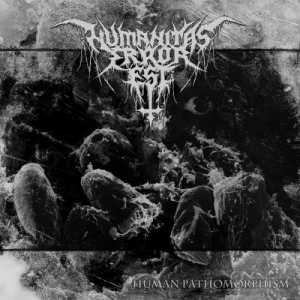 Humanitas Error Est, hailing from Leipzig, Germany, debut with Human Pathomorphism, an eleven-tracker that lasts for fifty-six minutes. The band, with former and current members of e.g. Rogash, Goatfuck and Grabak, was founded in 2013, and recently they signed to Satanath Records to have this debut released and distributed (once again in an unholy partnership with Abstruse Eerie Radiance and Black Plague Records). The material was recorded in the German Nautilus Studio, and mix + mastering were done by no one else but Déhà (think: K.F.R, Imber Luminis, Yhdarl, Suicidal Madness, Sordide and many, many more). Once again there was a pressing of 500 copies, which include a twenty-page (!) booklet).
With Human Pathomorphism, Humanitas Error Est (which means something like 'humanity is an error', and who am I to disagree?!) bring quite fast and energetic Black Metal, strongly influenced by the trans-European scene in general, and the Swedish one more specifically. As from Quod Homo Appellatur Morbus Est, my thoughts often dwell towards the likes of Dark Funeral, Setherial, Sorhin, Thy Primordial and Marduk, if you know what I mean. It's quite barbaric, full of war-lust and hatred, with those melodies and structures that breathe venom and devastating fire.
Despite a very energetic performance and quite cool song writing, I do miss two important things: originality and variation. When talking about the latter, I am rather referring to the lack of truly memorable moments. Even after some listens I am not sure whether it was this or that song that I was just listening to before. Indeed, it goes for the variety in between the tracks, for most pieces inherently do have a modest dose of diversification in, for example, speed or structure. Only Die Macht Deines Glaubens and Bestial Penetration are remarkably different from the other hymns because of the slower execution in most excerpts, and the more ominous and abyssal atmosphere. And when coming back to that 'pitying' in originality (my second remark of missing-something), well, I usually do not care about it. Now I do not deeply mourn either, but I do not mind missing an own face when the final result stands out. With Human Pathomorphism I am not always convinced about that level of superiority, especially when comparing to the Swedish colleagues I did mention before. Humanitas Error Est are quite cool, but they do not reach the level of, let's say, Dark Funeral or Marduk (at all).
But overall, Humanitas Error Est do what they have to do, and that is performing 'true' (yeah, whatever) Black Metal with a timeless 'heart'. Never they do fail, never they irritate or bore – but once again, seen the 'overdose' on releases lately, I wonder whether this band will… Whatever, I did (and do) enjoy this album!
I must add, though it is not that unusual, that one of the vocalists, S Caedes, is a female human entity, but then again, this remark isn't but informative and totally objective. That's a positive element, by the way, that this band makes use of two complementary singers (though 'singers', well, you know, it isn't the most appropriate description, is it…).
The CD comes with a bonus video-clip for Raping Religions, by the way, which actually has quite a decent sound and visual quality…