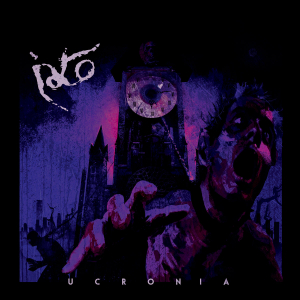 Even though this band was formed about a decade ago, they did not release anything decently yet – okay, with exception of a couple of independently released EP's. IATO actually as formed by some (former) Punk Metal / Hardcore musicians (the band grew from the remnants of defunct Ejaculazione HC), and they did record two mini-albums during the first half of last decade (2012 and 2014, to give you the correct information). Then things turned into ear-deafening silence, but the band did not dissolve. Eventually, several new tracks were written, and eight of them made it to the official full-length debut Ucronia.
That album lasts for thirty-three minutes and gets released on compact disc in an edition of 500 copies. These do include an eight-page booklet, with the lyrics (in their Italian mother tongue). On this album, IATO consist of bass player Andrea Manis, drummer Lorenzo Balia (also in Grinding Death Metal act Stigmatized, and he recently joined the great Black Metal act Vultur too), vocalist / guitarist Francesco Nano, and guitar player / backing vocalist Federico Pisano. It was recorded and mixed at the Cut Fire Mixing Studio and released via a partnership of semi-legendary (yeah!) Ukrainian Metal label GrimmDistribution and the young and small but upcoming / promising Italian label The Triad Rec (which focuses on Italian Extreme Metal acts especially).
Ucronia opens very disturbing, i.e. that the introduction on the first track, Letargico Conflitto (which means 'lethargic conflict'), is a fragment of industrialised noise. But that does not take long, for after less than half a minute, this band shows the true face of Ucronia. And believe me: it is an angry-looking, scarred face!
Indeed, what this quartet brings is a monstrous assault on the listener's eardrums. Ucronia stands for universal and timeless Grinding Death Metal, mainly fast to blasting fast, and unstoppable in execution. The songs are based on vengeful, raging riffs and leads, yet still these ones maintain a recognizable melodicism. It's very rhythmically performed, with inclusion of some slower parts (or better: less fast). But these mid-tempo excerpts are at least as energetic and overpowering too. The technical side has a high level, and the balance of primal riffs and technical experiments turns out to be a great decision. The whole instrumentation section acts as one massive symbiosis, improved by the very decent mix of Alberto Bandino. The latter excels in the necessary but represented and elaborated equilibrium in between all strings, voices and percussion (great studio job done!).
The main vocals do totally fit to this type of Brutal Death Metal: they're loud and deep - abyssal deep - and they do not bore at all. On the contrary, these grunts seem to be created within the deepest pits of Francesco's stomach, still wrapped in gastric acid and undigested raw flesh. What works very well is the combination with the guttural screams of Federico, who seems to spit out his lungs, right into your (pretty) face. These screams are not the so-called pig-squealing kind, which often characterises more grinding material, yet somehow they are rather screamo / punky / blackened (beware: this band does not, never, perform Black Metal oriented stuff). But once in a while, it does have that Grindcore-oriented character, and it is lovely to discover the multiplicity of vocal chord raping.
Cool is the variation, not only in tempo, as mentioned before, yet also in structure. Once in a while, like pretty soon in the track Iato, for example, an ingeniously composed dual tremolo intermezzo, hugely inspired by the better (American) Thrash riffs in history, shows these guys' ability to create somewhat 'traditional' yet outstanding material. Also the few inspiring guitar solos are worth mentioning, like in Idiosincrasia Sociopatica ('sociopathic idiosyncrasy') (truly captivating solo), at the end of Occhio Unico (which means 'single eye'), or in Soggetto Alienato ('alienated subject'), as well as the few drum solos / salvos.
My personal favourite track, in case you might care, is the last one, Requiem (no idea how to translate this in English, haha), which is the lengthiest one too with its six minutes of duration. It opens with a mesmerizing, breath-taking riff, shortly after followed by darkened background strings and intriguing drum patterns and percussions. It builds up, climbs up, and at about two minutes the whole turns into one monolithic Sludge whirlwind. At three minutes, everything seems to evolve towards a monumental epic, with scalding rhythms, epic riffs, grooving bass lines, thundering percussions, hypnotic melodies and those harsh vocals.
Anyway, I think Ucronia is one of the best Death Metal recordings from 2019, and one of the most impressive official debuts within the scene. Italy has a great scene with a couple of fantastic bands, and IATO can get subjoined to this list shamelessly.
https://grimmdistribution.bandcamp.com/album/038gd-iato-ucronia-2019
http://satanath.com/distro/item/038gd
https://thetriadrec.bandcamp.com/album/iato-ucronia