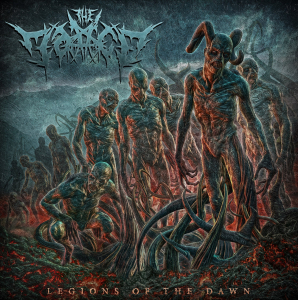 Release Date:
Wednesday, March 25, 2020
Ah, sometimes it is truly fine to get confused in a positive way. That's exactly what happened to me when Aleksey from Satanath Records (amongst others) informed me about the debut of the project The Malice. I have to admit that I did not know this entity, but apparently it's a pan-European collaboration of two famous and experienced sweeties. The vocal part is done by Germany's Claudio 'Samsu-Iluna' Enzler, whom you might know from orchestras like My Darkest Hate, Sacrificium or The Bleeding Skies (and many more). The instrumental side is courtesy of Swedish multi-instrumentalist Hubeister 'Nur-Adad' Liljegren, (previously) known from e.g. Crimson Moonlight, DivineFire and Sanctifica.
Deep-going investigation by undersigned revealed a modest yet actually quite interesting discography in the (recent) past. A few (digital) EP's eventually resulted in a loyal fanbase, which makes it quite logic that a first 'real' album might be appreciated enormously. Actually, this debut, Legions Of The Dawn, is not a totally new thing. Legions Of The Dawn is the remastered edition of 2019's independently released demo The Unholy Communion, which was a digital-only release. Now you can enjoy this material on compact disc (a 'regular' jewel-case, which includes an eight-page booklet).
This material was originally recorded at the Temple Ov Set Studio, with Hubeister taking care of the production duties. The result was mixed at the professional Dream Decipher Studio with Jani Stefanović (no coincidence, for Jani and Hubeister were colleagues in Crimson Moonlight and sort of collaborated in DivineFire too) (vocals were arranged by Wolfgang Nillies, FYI), with mastering duties by Ulf 'Uffe' Blomberg (Hoborec Studios). The package is now available (actually, it was released one year ago, but it is never too late to focus on great material that deserves all additional attention, promotion and support) in another partnership of two mighty labels, Satanath Records and More Hate Productions. It's not their first cooperation and it won't be their last either.
Before focusing on the sonic side, a word about the visuals. The new layout was done by Aleksey Korolyov, and the stunning cover artwork comes from the hand – and the (sick) mind – of Headsplit Design's Remy Cuveillier (who created hundreds of cover pictures before for releases by e.g. Thy Art Is Murder, Mastic Scum, Disowning, Suffering Souls or Mumakil). And believe me that the pretty faces on the cover drawing do fit to the aural terror – nine frenzy sonic assaults gathered now under the new moniker Legions Of The Dawn.
As you can expect, this album blasts as from the very first moment, and for thirty-three minutes, The Malice show no mercy, no remorse, no breathing space either. It starts with The Heirs Ov Sekhmet, bringing a coherent assemblage of sharp-edged riffs, ultra-fast drum salvos, technically high-skilled solos, shredded low-tuned bass lines and incredibly monstrous grunts. That's somehow the 'core' for each elegy on this album.
The better part is, evidently, fast. And with fast, I refer to everything in between energetic and up-tempo, over beastly blasting, to pyroclastic – like the Big Bang, a fast-as-lightning expulsion without limitations or borders. But it is fine to notice that a few moments take back the high-speed tempo, slowing down, albeit at least for some shorter moments. But that's a necessity, because of the overwhelming brutality going on. Besides, those few decelerations appear in a most organic manner, and never they do loose the power and energy of the rapid (or is it rabid) parts.
Despite the huge brutal approach, The Malice succeed to maintain a distinct technical elegance. This goes for the main riffs especially, as well as the overall song structures and the Fingerspitzen guitar solos. It reminds me a lot of the North-American scene rather than the European. Yet, I have to admit that the scenes from Sweden, Finland and Italy are no stranger either. Okay, this also means that this album is not an original work actually. Legions Of The Dawn has not been created to renew the scene. But that's okay, because the result floats within the highest regions of the scene for sure. The ingenious song-writing, the well-executed performance and the intense sound quality, yet also the variation in structure and speed, logically lead to appreciation, almost adoration and idolatry (a modest exaggeration, do you mind?).
Anyway, this is recommendable stuff if you cum on Deeds Of Flesh, Origin, Malevolent Creation, Nile, Aborted, Decrepit Birth, Hour Of Penance, Dying Fetus, Emrevoid, Suffocation and the likes…
https://satanath.bandcamp.com/album/sat284-the-malice-legions-of-the-dawn-2020
http://satanath.com/releases/item/sat284.html
https://morehate.bandcamp.com/album/legions-of-the-dawn
http://www.morehate.com/release.php?id=357&page=5
https://themalicelegions.bandcamp.com/album/legions-of-the-dawn
https://www.facebook.com/themalicelegions/