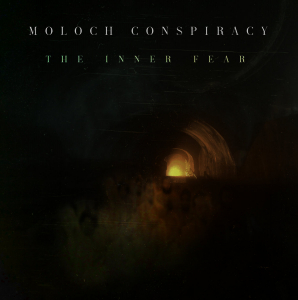 Release Date:
Saturday, October 17, 2020
The Frenchman Julien A. Lacroix is a very sympathetic human being, acting under his own name (rather ghostly and glitchy Ambient / Experimental / Electronic Music), as Ninurta (eerie and horrific Ambient; with a fine collab in 2020 together with Chile's Filmy Ghost), as α Ori (Glitch / IDM / Experimental / Cyber-Electro), and as Moloch Conspiracy. Under that moniker, Monsieur Julien explores the darkest, deepest and most ritual / spiritual aspects of humanity and their beliefs, cults or ceremonial activities, translated through abyssal and gloomy Drone / Ambient. Anyway, I'd like to refer to the reviews I wrote and published in the past for his former releases (links below) to find out more about this project and those specific recordings.
Moloch Conspiracy is quite productive, and The Inner Fear is the second full length release in 2020 (the former one, Incantations From Ugarit, was released in Spring 2020 via Italy's Eighth Tower Records; a review on this one will surely follow soon!). This time, the result gets released via Russia's Distorted Void, another excellent forum to discover and enjoy some of the best Dark Ambient / Drone projects, and releases, around! Actually, Moloch Conspiracy is part of the different Forgotten, Abandoned, Desolated compilations, one of the several exceptionally rich various artist gatherings by Distorted Void. The song writing, the whole performance (programming, percussions, piano, cello, duduk, samples, field recordings), the production, as well as the visuals, are courtesy of Julien; the main voices, however, are performed by Chū Sen, a source of inspiration to Julien for the creation of this album.
A cool aspects is that each single Moloch Conspiracy album differs, and at the same time it withholds that very characteristic approach, both aurally and conceptually. With The Inner Fear, it is not different. This time the concept is build around lost civilizations, survivors of an age of dawn, relying on new – or is it ancient? – religions and worship. The days of humanity have darkened. In the cities, the population survives in the old sewers and the many networks of galleries dug in the rubble of the surface. The cults have persisted and call on the lost souls to join awful ceremonies. The horror of invocations and prayers traces the path of a humanity which henceforth supports the domination of unknown gods and celebrations. Once again, the bleakness of mankind's future, and its relationship to veneration of, or faith in, religion and celebration of divine / spiritual entities, is a clear approach.
With The Inner Fear, Moloch Conspiracy once again mingles aspects from Field Recordings, Ritual Drone, Horror Ambience, Dark Ambient and Ceremonial Noise (yes, as from now on it officially exists). A mixture of ominous sounds, strange vocal samples, wretched instrumental disorder and occult passages result in another mysterious, mystic and magic landscape of multiple colours, fading away then again overwhelming the whole visual sequence – and these sounds indeed do create a specific visual dimension within the listener's mind, for the intoxicating, psychotropic sonic side accompanies the listener deep into dimensions unseen, untrodden, unexplored before. Indeed, it is remarkable how this material is able to create such hallucinogenic motion picture within the listener's mind.
The use of samples strengthens that visionary approach. Elements of nature are here to guide you through the worlds that are meant to be part of this grand epos. But the anti-earthly use of strings and synths too work remarkably transcendental, hallucinogenic and spiritual. Crepuscular dimensions with un-physical entities get painted in colours like blood-red, deep-black and blinding white too, resulting in disturbance, confusion, turmoil. Rumbling passages, down-earthed basses, ritualistic whispers, eerie sound collages and unexpected percussions continuously create and recreate spheres of untouchable and mesmerizing dreamscapes (dream-escapism sounds appropriate too!), sometimes softly caressing the listener's eardrums, then again twisting and teasing the subconscious. But that is exactly the aim, the purpose of this ritualistic concept. Delving deeper into the realm of our narrow-minded limitations, while trespassing borders of trauma and anxiety, existential questions may be asked; but answers, or the essential notification of the truth, might never be revealed.
But that does not matter, for The Inner Fear is a satisfyingly assuaging soundtrack in this quest for manifestation and illumination. The symbiosis of droning ambience, sedative noises and nebulae sound structures once again results in a soundtrack for spiritual levitation, psychic distress and archaic ritualism – all in one. Close your eyes and float away towards oblivion, or alleviation…
https://distortedvoid.bandcamp.com/album/the-inner-fear
https://www.concreteweb.be/reviews/moloch-conspiracy-1
https://www.concreteweb.be/reviews/moloch-conspiracy-0
https://www.concreteweb.be/reviews/moloch-conspiracy
https://www.concreteweb.be/reviews/various-artists-forgotten-abandoned-desolated
https://www.concreteweb.be/reviews/various-artists-occult-realm