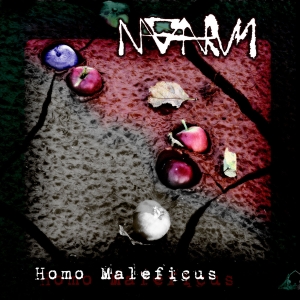 Earlier this year I published a review for 2016's full length album D.I.M. (http://www.concreteweb.be/reviews/nagaarum), and soon I will also write and update one for the newest one, called Apples, but this review deals with the former recording, Homo Maleficus, which was actually released fifteen months ago. It got released via GrimmDistribution (a sub-division of Satanath Records) and, once again, NGC Prod. in an edition of 500 physical compact discs, which include a folded eight-page booklet. Everything has been created and developed by Gábor 'Nagaarum' Tóth himself, being song writing, instruments + voices, recording, production, mastering, mix, lyrics, and even the (bizarre yet unique) artwork. As usual, everything exists in this guy's mother tongue (Hungarian), but the texts and information have been translated too on the booklet.
As you might know, this project is a very productive one, and this album got released less than half a year after Pulzár, which was an independently digitally released full length. There was also a compilation in the mean-time, and a grandiose split with Astru, by the way…
As it was in the past, Homo Maleficus is an album with many levels, permanent changes and interactive play. It collects elements from different musical styles, brought together into a weird gathering of melodies and structures. Everything from Extreme Metal to progressive Post Rock, as well as electronic and ambient section, pass by in a sometimes weird yet cohesive and fluid way. There are no restrictions, except for pathetic exaggerations, resulting in one grandiose coherent spectacle (it actually goes for the aural side, the visual one, and the textual one, spawn from the brain of one single entity).
Every part is differing in atmosphere, tempo, style and so on. When talking about the first, the atmosphere, there is a wide range of emotions going on: from integer and introvert over open-minded to brutal / angry and eccentric. A couple of time, you're bewitched by mesmerising ambience, then again you get suddenly confronted with a nasty and all-devastating outburst. Which brings me to the second thing, the tempo. There is, once again, a certain focus related to 'Doom' in general. Many slower riff parts are like the funereal core of the Doom scene. Yet then again, occasionally everything gets nastier, with faster excerpts. It gives an energetic groove and a persuasive dynamism to the album when it's needed, nicely in equilibrium with other moments: progressive and almost scientifically perfected experimentation, subtle ambience or the bleak outlet of disgust and perverted hatred. Though the use, separated from each-other as well in a fine symbiosis, of a huge number of sonic styles and genres, the whole trespasses any form of narrow-minded limitedness. Of course, this makes everything quite complicated from time to time, yet attractive as long as you're willing to plunge into this turbulent bath filled with untameable waves and unpredictable hooks and breaks. Homo Maleficus is, like about every former Nagaarum release, something that needs several listens, assisted by endurance and perseverance, but it might be worth the effort.