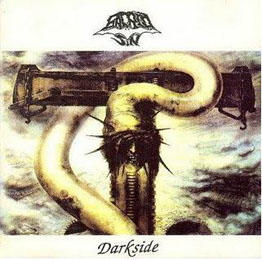 Release Date:
Monday, September 8, 2014
Sacred Sin were / are one of the most 'popular' bands from Portugal, though their popularity has never reached the level of, let's say, a band like Moonspell. That's undeserved and a pity. They were formed in 1991 and debuted in 1992 with the EP The Shades Behind. One year later, Sacred Sin released their full length debut Darkside via Portuguese label Musica Alternativa, followed by several other albums and some compilations. As from 2003 on, activities were limited, and with exception of the Dawn Over Desolation-EP they didn't release anything at all anymore. Eventually the band split up.
However, last year band leader José Costa announced to reform Sacred Sin, with original guitar player Tó Pica returning to the line-up as well. But don't expect to read a review about a new album right now, for there is no new album in the making yet. This review deals with the re-mastered edition of their debut Darkside (the 1994-edition, after remixing, for your information, at least if I am not totally mistaken right now; my age is teasing my memory, I'm afraid), released in an edition of 500 copies. About the making of the album and the first years of the band, I can refer to a description done by former drummer Dico, posted on Satanath's site (see: satanath.com/news/item/sacred-sin).
What Darkside stood (and still stands) for, is a back-to-the-womb interpretation of American-inspired Death Metal with some own ideas. With that 'American' I am especially referring to influential elements taken from the likes of Morbid Angel, Incantation, Nocturnus (without the cosmic synths) etc. But this band injects its music with European elements as well, and, on top of it, some self-created aspects, like the few yet well-crafted keyboard lines or the Thrash-edged injections. The band was quite technical in its approach.
The first re-release, 1994's edition, had a live-EP as bonus. That does not go for this one, but this 2014-release comes with Carnage Forsaken as bonus track, taken from the 1997 rehearsal / demonstrational tape. It's a quite interesting track, though pretty characteristic for the band, showing crafted progression.