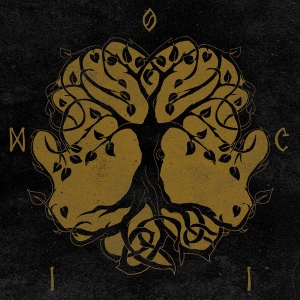 On June 8th 2015 Concreteweb did upload my review for Transmissions, a split in between Finnish act Moonkult and Hungarian one-man combo Solus. With certainty the latter was the best out of two on the split, at least to my humble (and totally subjective) opinion. I did have one remark (which did eventually influence my score) and that was the inferior sound quality.
Well, now David Vadkerti-Tóth returns with an untitled full length, and my first concern was, evidently, the production. And damn, but the work at the Rising BlackMoon Studio has proven its value! The sound quality indeed is of a very high level.
Solus brings fifty five minutes of varying Black Metal, and opens with the lengthy track Visszatérés, which opens the burzumesque way. It's a slower piece, based on long-stretched, repetitive guitar melodies, fairylike synth waves, a cool, almost melodious rhythm section, and raw, raspy screams. This is a fine example of so-called Atmospheric black Metal, combining the emotions of desperation and emptiness at the one hand, and a feeling of pride and epic glory at the other. Világok Közt Vándorló then again, the second piece, is much faster and heavier, with a really f*cked-up attitude, yet a quiet outro. With Elfeledett Utak, Solus sort of returns to the somewhat Nordic-alike approach, delving into a certain Second Wave-mist, including an aura of war-pride and fearlessness.
And this sort of goes on throughout the whole album, with exception of the last composition (see later). There is a very pronounced coherence, despite a certain lack of originality (the latter being of total non-importance!). From compositional point of view, the strength and conviction of all former material (once again I'd like to refer to the split too) gets equaled, but since the sound result is so much better, my enthusiasm will be translated in an appropriate score, evidently. But it is a general feeling, for this untitled full length is truly of a very strong niveau. No matter if you want to focus on the doomish, then again on the faster parts, throughout the whole album the professionalism and conviction remains high-standard. And then, to end this journey with, let's stay within a relative burzumesque tradition, for Levegés (which is the longest piece, clocking almost fifteen minutes), is a somewhat cosmic (not of the spacy kind!) outro, with a floating Ambient attitude during the first ten minutes, a somewhat trancelike Dark Intellectual Ambient Dance Music approach for a couple of minutes, and once again a hypnotic Trance-Ambient piece to end with. A love-it-or-hate-it finale, but undersigned, for what it's worth, adores this elegance!