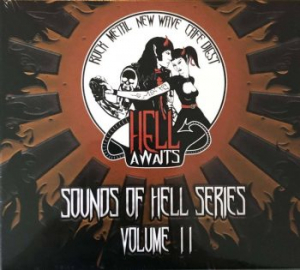 Album Title:
Sounds Of Hell Series Volume II
Release Date:
Thursday, December 31, 2020
After a Volume I, quite often, normally, there might be a Volume II as well. And ah, this proves that we, people from the Lowlands, are smart asses, because our respectful Hell Awaits crew and their young Sounds Of Hell promotion and distribution outfit indeed came up with a second volume, which, indeed, follows the first one (logic thinking is courtesy of Flemish soil for sure). And to stipulate our local intelligence even more: these guys from Diest are working on a third chapter (almost two hands full of bands did already sign), which will be called -and kneel in wonder- Volume III indeed! The circle is round after all…
No, let's be serious (for a while). The goal of this compilation series is to promote and support the scene from Flanders, as well as Wallonia (the French-speaking South of Belgium) and the Netherlands. And this goes for a lot of genres, as long as they have to do with Metal, Punk or Rock Music in general, old schooled or modern, intense or integer, good or even better. Anyway, I'd like to refer to my review on the first sampler (link below) if you do want to read some more background information on the pub where it all started and the (hi)story behind the concept. I am going to repeat it right now.
In the vein of the first volume, this second edition comes as digipack with inclusion of a professionally printed A5-sized twelve-page booklet, which includes a brief introduction to each project involved. Actually, it's ridiculously cheap to buy (€ 7,5, via the label or each of the combos involved), and for sure it might be such great introduction to bands you might not have listened to yet, but that might be your enthralling cup of (sweet or acid – up to you to choose) tea. Oh yes, the cover artwork is about the same as the first time, yet with another front colour (rather brownish instead of dark-red). I think it's another intelligent idea to maintain the visual concept, to focus deeply on what the aim of this series is (as said: to support the regional (underground) scene).
Like the former volume, I will not go too deep into each project's biography or history, but a small introduction and some personal thoughts on their tracks involved will follow. This time, there are fifteen bands included (the former compilation consisted of eighteen bands / songs), yet still that's an impressive representation of our local greatness for sure!
Malfested (bel), Masked With The Skulls Of The Fallen; this new band from Kortrijk presents us a track from their self-released debut EP Shallow Graves, and it's part of a conceptual story about a huge war to fight an overwhelming evil force – no mercy, just cruelty. These guys perform Death Metal, that's it. …not! No, the Death Metal Malfested bring is of a unique, ultra-stubborn kind. It's strongly guitar oriented, with a lead riff that is both mesmerizing and atmospheric, interspersed by fragments of old schooled heaviness (the Swedish scene is no stranger, apparently). But this composition also consists of elements from Melo-Death, Doom-Death and Black Metal; I know, that's a general approach, but since this is a part of a compilation, I can't / won't / may not go too deep into the matter. But hey, this is Death Metal of a high level for sure!
Cathubodua (bel), Hydra; this six-headed symphonic outfit has a huge live performing reputation, and on this compilation, they bring a piece from Continuum (2019). You'll notice the traditional elements: fast drum patterns, folkish passages, operatic voices and varying rhythms and riffs, with 'traditional' leads etc. But then again, some fragments are truly remarkable (a couple of repeated chapters, yet also that short integer, dreamlike excerpt at about three minutes), the general execution is top-notch, the sound quality (read: production / mix) is absolutely high-qualitative, and the lead voice of Sara is such a strong one. Draw your swords and raise your tankard of ale!
Ashturn (bel), Changes; this is an 'older' act (formed at the beginning of this millennium) that wrote and recorded a handful of independently released EP's in the (recent) past. Changes is taken from their last one, 2020's Beyond Defeat, and their Metallic Hardcore might not be that renewing, but oh man, this is so fully energetic and powerful. The whole instrumental section acts like one overwhelming avalanche-like bulldozer, with unique drum patterns and a grooving guitar sound, while the throaty vocals and eccentric drum patterns, as well as the own-faced break at almost three minutes, show the own identity of this DIY act. And what a mighty 'grande finale', with those pounding structures and hypnotic melodies at the end…
Los Fantasmas (bel), El Rey; actually, this is quite an archaic elegy by this maniacal masked trio (they use 'lucha libre' masks, used by Mexican wrestling competition), for it was written in early 2016, if I am not mistaken. Mingling elements from Rockabilly, Americana, Groove and even Blues, the joyful Garage Rock could have been part of some Tarantino soundtrack for sure. Jazzy drum patterns, R'n'R'y guitar riffing and groovy bass lines are canalized into an (instrumental) old-styled anthem-to-be. Dancefloor Rock, baby!
Bacon Fat (bel), 110%; active under this name sine two decades, yet with musical experiences that go way back; drenched in a Seventies sound, this amalgam of elements from Traditional Doom (Pentagram, Trouble), Southern Rock (ZZ Top) and Hard Rock (AC/DC) captivates, for the purity and honesty grabs you by the b*lls. There is a bluesy hint within the sound, a touch of Stoner within the execution, and a psychedelic twist within the atmosphere.
Bullet 'n Arrow (bel), Heaven And Hell; two guys, two girls, a bullet and an arrow… This quartet was formed in 2015, and on this sampler they bring the title track from their latest effort. The lengthy hymn Heaven And Hell stands for somewhat traditional, and in this song's case quite integer, Hard Rock with a focus on the explicit warm vocals of Astrid, pronounced guitar-laden leads, and a firm, supportive rhythm section, yet also some fine acoustic fragments that support, or strengthen, the dual atmosphere. The solos, by the way, are quite hypnotic, and the main riffing and rhythm instrumentation support have something technically progressive, without becoming modernistic.
Demenzia Mortis (bel), AntiKult; after an EP in 2018, this semi-corpse-painted outfit was able to share stages with some of the greatest names within the Black Metal scene. But they also could finish a full-length debut recently (to be released – and reviewed, of course – very soon!), from which they contribute with the title track. Release, by the way: Sounds Of Hell Records! Anyway, this quartet bring a very varying piece, with slower and blasting parts, hymnic pride, traditional power, and a thunderous rhythm structure. This song has something grooving and pounding, with a truly overwhelming rhythm section, a fine equilibrium in between aggression and melody, and a raw, uncompromising sound.
Ars Veneficium (bel), Devour The Light; I have never hidden my adoration for Belgian Black Metal label Immortal Frost Productions. The guy who runs that label is also active in a couple of projects, and the best known one nowadays must surely be Ars Veneficium. Their involvement on this compilation is taken from the majestic 2020-album Usurpation Of The Seven. Well, this is the essence of Second Wave Black Metal, a mostly pure expression of hellish fury, blasting rage in perfected equilibrium with melodious atmospheres of obscurity and hypnosis. In one single piece, like this one, Ars Veneficium are able to create both chain-sawing frenzy in the vein of the Swedish Nineties scene (first half) and proud, vengeful epic melodies with somehow a pagan atmosphere.
Instriumae (bel), Ab Initio; a very young collaboration of three instrumentalists that would combine Rock / Metal music at the one hand, and classical elements at the other – a combination done before, and which sometimes truly works. In this case, it might work too, for this trespasses the limitations of known borders. The background is based on a very powerful, even intimidating rhythm section. Low-tuned strings and pushing drum patterns act as foundation for leads, which consists of classically skilled violins especially, and some fingerspitzen guitar solo-work too. Andre Rieu goes Metal…
Fat Bastard (bel), Blood, Sweat And Beer; well, sometimes sleazy isn't dirty enough. This flock of disordered, eh, musicians, recorded two albums before, and this lullaby is taken from 2018's Junk Yard Fest. And I can keep this very short: Motörhead worship!!! Seriously, this stuff breathes the legacy of Lemmy and co; even the vocal range of 'singer' Jorn has that marvelous 'cigarettes-and-whisky' timbre of late Mr Kilmister. But actually, Fat Bastard do also inject their stuff with a NWOBHM elegance and some punky f*ck-off attitude, yet above all their Motörhead adoration remains the core of their existence. I wish them a lot of sweet blood, hot blood and fresh beer…
Osebolle O (bel), Den Ouwe; called after a very famous Flemish female singer (gargantuan smiley included), and using lyrics in their mother tongue; this is a minimalistic form of no-nonsense Garage Punk Rock, with energetic rhythm patterns, rather clean lead voices (as said, in Flemish), some psychedelic guitar leads, pounding bass lines, and simplistic yet, therefor, an ingenious main structure. Do not expect progressive or modernistic creativity; this material goes back to the tiny, lilliputian essence of basic Punk Rock. Less is more!
Odd Obsessions (hol), Mistify; the sole band from Holland this time, I think. It's a young act, with their first official release in Summer 2020. But hey, what a dedication to the core of Metal. Mistify mingles traditional Heavy Metal with a trans-European attitude with a convinced NWOBHM approach, and with elements from Thrash Metal, Eighties Hard Rock and epic Doom / Power Metal. The better part focuses on tremolo guitar leads and sharp soloing, with harmonious vocal lines, all of them supported by a firm rhythm section and a speed-up structure.
Valkyre (bel), Buried Alive; within the Symphonic / Gothic Metal scene, this band is no stranger anymore. After quite a successful album in 2014 (Our Glorious Demise), they took a break, but recently Valkyre did return. There were some changes in the line-up, especially when it came to (female) front singers, but for a while they did team up with no one else but Liv Kristine Espenæs (ex-Atrocity, Theatre Of Tragedy, Midnattsol, Leaves' Eyes etc.). Buried Alive brings an operatic / symphonic form of Melodic Metal, bombastic in its background, rhythmic in execution, melodic is expression, and surely emotional in atmosphere. Multiple vocal lines (of course, the main voices are of the non-operatic yet female-fronted kind), catchy riffing, dreamlike synth orchestration and a thunderous rhythm section form the core of a semi-classic adventure that won't mislead the majority of Dutch or Norwegian acts within this scene. Fairytale-on-Metal…
Carrion (bel), Supreme; the history of this band actually goes back to the first decade of this millennium, but as Carrion these pretty ones did release two quite successful albums. Supreme is taken from their last one, 2018's Time To Suffer. These pretty guys perform Death Metal as in 'Death Metal'. No compromises, no forgiveness whatsoever. It's energetic, fast-forward and speed-up, yet at the same time enormously melodic, even hypnotizing, and progressive. The latter has to do with the huge variation, the avantgarde patterns, the mesmerizing leads. But at the same time, this has something so universal and old schooled, with the main riff passages simply exhaling the greatness of the Old School.
Exoto (bel), Absolution In Death; nostalgia! I did follow these guys as from the start (thirty years ago in the meantime; yes, I am that old); I did even co-distribute their first demos. Tragedy, however, happened, resulting in the break-up somewhere half of the Nineties. But eventually original member Chris decided to continue, with a first EP in 2019 as result. And now the band is working on a new full length, going on, and further, where the former part of their history  ended, to be released in the near future. Anyway, this track absolutely goes back to the early years, to that era where tradition and experimentation / progression came together, without turning into brainless pulp. Death, Pestilence, you know; these combos created that bridge in between the origins and a new age, yet keeping the flame of the Old School burning. And that's exactly what I hear right now. Absolution In Death simply breathes the Essence of Old (what a dramatic, even theatrical description), yet penetrated by some technically modernistic elements.
Coming up next: Sounds Of Hell Series Volume III, Demenzia Mortis's AntiKult, and everything else that might destroy your ear-drums!
https://www.helldiest.com/product-page/sounds-of-hell-volume-2
https://www.facebook.com/helldiest/
https://www.concreteweb.be/reviews/various-artists-sounds-hell-series-volume-1