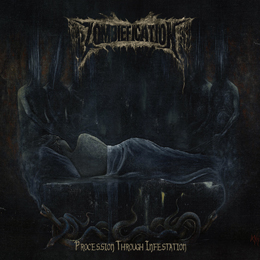 Album Title:
Procession Through Infestation
Release Date:
Monday, September 15, 2014
For a history / biography / discography about this Swedish, excuse me, this Mexican project, I would like to refer to the reviews I did for the Reaper's Consecration-MCD (posted on December 9th 2012) or the last full length At The Caves Of Eternal (see update June 2nd 2013). As you can see / read, I was enormously enthusiastic about this stuff. And since we're referring to former updates on Concreteweb: on November 11th 2014 we updated Majestic Downfall's contribution on a split with Australia's The Slow Death; Majestic Downfall are a Doom-Death act by Zombiefication's master brain Jacobo 'Mr. Jacko' Cordova…
I'd like to go immediately to the album, Procession Through Infestation, which was, once again, recorded at the famous Necromorbus Studio with Tore Stjerna (think: Merrimack, Valkyrja, Unanimated, Watain, Repugnant a.m.m.). The eight tracks go on in the very same vein of the former material, evidently, and that's just fine. Procession Through Infestation lasts for about forty five minutes and as from the very first moments it's clear that Zombiefication go on, and even further, than ever before. Still the whole experience is highly influenced by the Swedish scene, but more than once, this angle has been translated by an own, distinctive, unique own interpretation of Old School Grandeur. Of course there are still hands full of hints to the likes of Nihilist / Entombed, Dismember, Grave etc., but the project has been able to give their own twist / approach / definition to that specific sound / approach. In general, everything is still fast-forward, uncompromising, nasty, up-tempo, pounding, smelly and ugly, but it does sound much more modernised and grooving, and less straight-forward. I do not know if this is a positive, then again a negative evolution. That's something you need to make up for your own. My personal opinion goes for the second option, though it does not depress me. But it disappoints a little. …A little much (if this would exist).