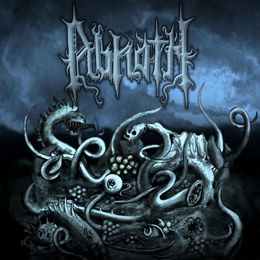 Release Date:
Thursday, December 18, 2014
I honestly cannot sum up more than five bands from Montenegro, but this act, Abhoth, hails from that former Yugoslavian country. They were formed somewhere in the middle of last decade, initially meant to be a studio-only project (and I think it will stay that way). But I am not sure this trio (Branko Jugović, Miloš Klikovac and Srdan Mišović) [FYI: Miloš and Branko are also in KK Street Bangers and Zaimus; about the latter, I will write a review pretty soon about their The Unholy Spells Of Night-demo, release via Cold Raw Records] did release anything at all before this EP. Anyway, this self-called mini-album was recorded in 2013 and 2014 at their Rebellion Studio (studio duties were done by Branko), and originally released the digital way in June 2014, and now put on CD for a better promotion and distribution by e.g. Satanath Records (once again in a co-operation with Darknagar and Grotesque Sound).
Abhoth is not your 'usual' release, for it's full of contradictions: old style versus modernism, heaviness versus elegance. Of course I will go little deeper on this matter. The whole thing, lyrically inspired by the great works of Lovecraft, is clearly rooted in the old schooled tradition of (European) Death / Doom-Death Metal, but it does breathe the ingenious progression some bands seem to explore lately. For H*** sake: 'progression' does not, and I repeat: NOT mean 'Progression' and in 'Progressive Death Metal'. But this aside… The vocals come right from the depths of one's belly, the bass lines are so eighties, the solos can't help you stopping to bang your (pretty) head, and so on; but what sort of characterises this band too, is the use of fantastic keyboard layers on top of pretty heavy yet varying rhythms and melodies. Sometimes this element is little comparable to the earliest works of Phlebotomized or Sinoath, when considering those synths, but SepticFlesh, Rotting Christ, Therion or mighty yet totally underestimated German act Torchure might have been of influence too.
Anyway, I hope this band will come up with some new material soon. Why shouldn't they anyway?