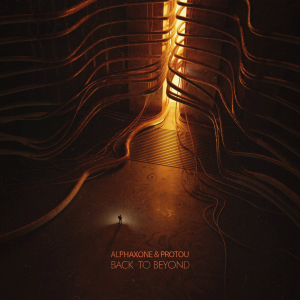 First this: since both projects involved on this collaborative album have been reviewed several times before by undersigned, I'm not going to give a full history / biography / discography on either Iran-based act Alphaxone nor Ukraine's ProtoU. Let's just say that both Mehdi Saleh and Sasha 'Cats' Puzan are not a stranger to the magnificent Cryo Chamber label, and this isn't their first mutual effort either.
This successor of 2017's Stardust was written, performed and produced by both musicians, and eventually it got mastered by label owner Simon Heath (also the master brain behind e.g. Atrium Carceri, Sabled Sun or legendary Za Frûmi). It's available via downloadable (digital) sources, of course, yet also physically. The latter has to do with a six-panel digipack compact disc, with stunning artwork created once more – like usual – by Simon himself.
Back To Beyond clocks nearly one hour and continues the space adventure that ended (yet not definitively) with Stardust. There's a feline involved, floating around in the spaceship, who broke up her feeder, but hey, she's of real flesh and blood, and not some artificial companion on this astral trip, isn't she. It makes you and the cat feeling connected, related, within a seemingly borderless cosmos. With this feline, I do not feel alone, though…
It starts quietly, dreamlike, slumbering, when a sudden realisation of mechanical droning accompanies your wake-up call. Slowly yet ominously, a haunting presentiment grows, and heavy yet atmospheric sounds cover you in wonder, in confusion, in anxiety and inquisitiveness… That's exactly what happens at first by means of the first four minutes of opener Future Underground. It's a perfected setting for a beautiful and explorative yet little scarifying and creepy adventure.
The second half of this opener – and no, I will not dissect / analyse each single title separately – has a rather mesmerizing, even meditative atmosphere in sound, with different layers of softly-floating keyboard ambience, low-tuned and dark droning, and well-fitting yet still somewhat unusual additional sounds and samples – the perfect ingredients for an astral journey of aural grandeur.
And that's how Back To Beyond got build up in its entirety. Electronic manipulations, mysterious harmonies, darkened and rumbling drones, a huge variety of field recordings, low-tuned basses, spacy noises, both atmospheric and mechanical sounds, chimes and bells, electric strings (?), vibrating beats, minimal atmospheres, megalithic and mesmerizing soundwaves and mysterious synth frequencies get gathered in a very differing yet enormously organic way, permanently enthralling, captivating and provoking, creating marvel and worder, as well as discomfort and nescience. The balance consisting of excerpts of integrity and a certain serenity perfectly, go hand in hand with heavy-tuned, oppressive fragments, resulting in a fantastic story, a cinematic experience defined through sonic grotesquery. And once again, 'grotesquery' does not implement a definition of absurdism or incoherence (at all), yet I'd rather like to label the 'grotesque approach' as a creative and explorative form of imagination, almost hallucinatory in nature.
Back To Beyond needs (and deserves) a couple of listens in order to comprehend the whole story. And still then, the listener's fantasy might confuse and reveal itself at the very same time. It's minimalistic and distant, and at the very same moment so overwhelming and extant; and that naturally-sounding equilibrium in between harsher and monolithic fragments at the one hand, and semi-null parts at the other hand, works well once more. Space Ambient, Dark Drone, IDM, Dark Ambient, Cinematic Psybient, you know… Each listen is a mental-ghostly adventure, accompanying your thoughts, dreams and fantasies to dimensions unexplored. I wonder whether the cat within this story is conscious of its unavoidable transience. I hope she's not…
https://cryochamber.bandcamp.com/album/back-to-beyond
https://www.cryochamberlabel.com/2021/05/04/alphaxone-protou-back-to-beyond-released/
https://alphaxone.bandcamp.com/
https://www.facebook.com/protoudrone/
https://www.concreteweb.be/reviews/alphaxone-protou
https://www.concreteweb.be/reviews/alphaxone-1
https://www.concreteweb.be/reviews/alphaxone
https://www.concreteweb.be/reviews/alphaxone-0
https://www.concreteweb.be/reviews/alphaxone-xerxes-dark
https://www.concreteweb.be/reviews/protou-1
https://www.concreteweb.be/reviews/protou-0