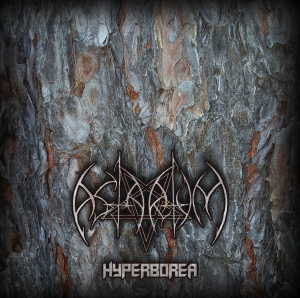 Being inspired by the combative spirit and the pristine wilderness of his homelands, being the region of Novosibirsk, Nikolay 'SiN' created an eighth full-length that goes on in the vein of the past. Active since 2005, Astarium did create an own approach of Atmospheric Ambient Black Metal; but I'll go deeper into the matter immediately. First some details about this album's administration.
About everything on this new album was done and created by SiN himself: song-writing (with exception of two tracks) and lyrics, performance of guitars, voices and programming, sampling, even the layout (photography included) and (cover) artwork. Hyperborea clocks almost forty-seven minutes and gets released on compact-disc, i.e. a jewel-case CD with eight-page booklet, which includes the lyrics (in English) and some mushroomy pictures. The material was written over a period of several years, and eventually finished and independently released in 2019. The physical version is now available via a partnership of the Portuguese label Gravações Tunguska and Ukraine-based GrimmDistribution. Some former releases, by the way, were released via Symbol Of Domination Productions, which is, together with GrimmDistribution, part of the Satanath Records household, in case you might care.
Anyway, those trusted with this project will know what follows, for Astarium go on with that characteristic own-interpreted approach, being a symphonic, theatrical and ambient form of Black Metal. Hyperborea convincingly follows the former efforts (at least this refers to the structure, interpretation and execution of the material); why changing a winning team anyway. It surely is a blackened form of Metal, with a strongly guitar-based center to start with. The compositions are very melodious, with atmospheric and epic guitar leads and some tremolo riffing to start with. These melodies have a grotesque, sometimes even dramatic attitude (attention: not of the melancho-depressive kind at all!), including more than a couple of eccentric, even exuberant leads and soloing. One would even call it 'progressive', but not as in 'Prog Metal' or so, yet rather seen from a unique slightly-experimental point of expression.
But two other aspects too typify that Astarium sound: the vocals and the keyboards. When talking about the latter, those keyboards, well, they are an enormously important element to define this project's technique. Throughout each single track, the whole of the album, the synths represent a specific line of action, whether it be heroic, cosmic, orchestral or ambient. Sometimes they are at the background, identifying epic or sensitive topics, then again they create a structure both bombastic and symphonic, medieval or folksy (FYI: hints of Pagan / Folk are part of the concept for sure), or rather painting atmospheres of integrity and intimacy. But for sure, the whole of the time these keyboards to give a specific trademark to Astarium's adventurous performance. In a comparable line I would like to refer to the use of some samples (voices and found sounds from Mother Nature, howling wolves, elements whatsoever) too, carefully represented yet, when used, deeply focusing on the identity of the song's concept.
The voice of SiN is not exactly 'usual', even-though it isn't that weird either. Instead of hysterical shrieks, soar of high-pitched screams or some deep-growling throat, he combines somewhat rattling voices and rasping speech. It gives the whole a narrative dimension, which fits well with the epic tale-telling and lyrics. Especially the (few) long-stretched roars are remarkable, combined with that scenic expression. Northern lands, pride and revenge, glory and gloom, it's all part of the aural journey.
The rhythm section (rhythm six-string and four-string guitars + programmed percussion-work) works very well, for it does lift up the nature and the essence of the outcome. It is because of the well-balanced mix especially, I guess, that this does work so righteous. As said, the guitar leads, the keyboards and the vocals are what characterizes the sound of Astarium, but it gets fortified so organically by that rhythm segment in combination with the rough-edged yet fine stability in production / mix.
A not that unimportant detail to add is this. Hyperborea consists of not less than sixteen (individual) titles, but there is a steadfast cohesion for sure. Many excerpts are shorter (instrumental) interludes that organically work as 'glue' to make the whole concept sound like one firm sonic adventure.
https://grimmdistribution.bandcamp.com/album/059gd-astarium-hyperborea-2020
http://satanath.com/distro/item/059gd.html
https://astarium.bandcamp.com/album/hyperborea
https://tunguskarecordings.bandcamp.com/album/hyperborea
https://www.concreteweb.be/reviews/astarium
https://www.concreteweb.be/reviews/astarium-0
https://www.concreteweb.be/reviews/astarium-1
https://www.concreteweb.be/reviews/astarium-2
https://www.concreteweb.be/reviews/astarium-3
https://www.youtube.com/watch?v=VEpoXmKJSTM
http://www.astarium.ru/eng/index.html