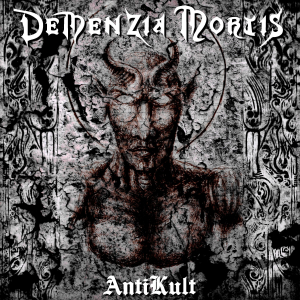 The Rock / Metal / New Wave scene from Belgium has a lot to offer. Quite a lot is bullshit, let's be honest. But we do surely have a very vivid and worthy scene too, both in Flanders (the Dutch-speaking North) and Wallonia (the French-speaking South) (and the other communities). Unfortunately, seen on worldwide scale, the Belgian scene is somehow underestimated.
Yet then again, we do have a couple of labels that try to uplift and promote out local bands. A young label is Sounds Of Hell Records, which tries to support the Lowlands (Belgian as well as the Netherlands). They are like a sister-company to the Hell Awaits community, born out of the idea of a pub that supports our local artists. It began with the compilation of Belgian and Dutch bands and projects under the Sounds Of Hell Series moniker; two compilations have seen the light in the meantime, a third one will be finished in the near future. But Sounds Of Hell Records have the intention to do more than compiling bands and projects, and as an equivalent entity, they will release material by individual bands and projects as well.
More specific we are talking about the first 'real' release (not a compilation); in this case by Demenzia Mortis. This act started in 2014 in the city of Mons (capital of the province Hainaut), after the brothers Frédéric and Thomas Malengreaux (aka guitarist Grabak HellFire and drummer AxHell) and bass player Pascal Degavre (Asmodeus), joined forces (actually, first AxHell and Asmodeus, yet soon followed by HellFire). They were looking for a vocalist, and soon they recruited Manu 'Naberus' Maret. The quartet wrote some tracks and started rehearsing, and as from Spring 2016, Demenzia Mortis started playing live too (in Belgium and France, actually, but they participated as well on the 2019 edition of the Mass Deathtruction festival, which did include bands like Mgla, Moonsorrow, Severe Torture or Dark Funeral). Then it was time to enter a studio, which resulted in a first independently released EP (August 2018), called Memento Mori. It was a digital release, but in 2019 Malpermesita Records re-issued this stuff on compact disc as well.
The band somehow grew throughout the years, and recently they did finish their sophomore record, i.e. AntiKult. Once again it was recorded at the Recording You Studio by Patrick Thayse (of Drakkar-fame). It's a conceptual recording, dealing with the question of how humanity would have evolved if religion, both monotheist and polytheist, did never exist. What if there were no gods, no supernatural messiahs or mighty deities – would the human kind be stronger, more evolved, more intelligent and independent? The 'anti' of religious 'kults' is here the main theme, the answer might be that mankind could have evolved in a positive way without the heavy weight, and limitations caused by religion.
Anyway, AntiKult will see the light – oops, I'll start all over, for this sounds way too religious…
Anyway, AntiKult will be released (better this way?), as you can guess, by Sounds Of Hell Records, and this of course via digital sources, yet also physically. There are two versions on compact disc: a 'normal' jewel-case CD and a digipack edition; and three on vinyl: regular black, red and purple.
It all starts with Dies Irae, based on a wall of Static Noise, and soon injected by samples from, indeed, religious sources: church bells, Gregorian chants, Islamic prayer / singing, a choir, you know - an amalgam of samples and a thick wall of noise. …before ending, at last, with the true sound of the purest solution, bang bang!
As from Codex 666, however,  Demenzia Mortis overwhelm the listener's brain and eardrums with their next phase of evolution. There is no doubt: forgiveness and salvation are futile! It mingles groovy fragments, with low-tuned strings, deep-growling grunts and furious blackened screams, thunderous drums, blasts in the vein of the Swedish scene, enfin, not exactly renewing elements - yet for sure those ingredients to create a monstrous expression of blasphemy, misanthropy and fury! Remarkable is the variation in structure, for Codex 666 -and this goes for the better part of the album too- consists of several breaks and tempo-changes. But each individual excerpt whatsoever maintains an equally balanced anger and malignancy for sure.
The next track is the title song, which was part of the second volume of the Sounds Of Hell Series. Here too, the subtle variation in combination with a coherent song writing, is remarkable. Mingling Blasphemous Death Metal and Orthodox Black Metal, including acoustic fragments, both slower and epic chapters in balance with vengeful eruptions; this piece did impress me as from the first time(s) when enjoying that higher mentioned Sounds Of Hell Series Volume II compilation.
Triste Paysage, sung (not exactly 'sung', haha) with lyrics in these guys' mother tongue, and which means 'sad landscape', is a blackened outburst, divided into blasting and devastating parts - indeed, nothing but war and terror. Once again, the scene from Sweden comes to mind, although this band has a rather universal approach. I think it's the intensity that reminds me of mardukian elegance somehow. Once again, there is an example of well-thought twist of composition, with that slower paysage, sorry, passage at about three minutes, with spoken words, militant drum patterns, obscure guitar drones and mesmerizing leads.
As said before, this release has something groovy and epic, and if you listen to, for example, the sluggish opening sequence of Dark Resolution, well, then that victorious grooving character reveals somehow the pride of the Nordic (read: Norwegian, in this specific song's case) scene as well. Hints of the Viking Black Metal scene from the glorious Second Wave trend are not far away at all. Nice is the outro, with atmospheric keyboard lines and martial and warlike drums, by the way.
I can go on, but it would lead us too far if I continue dissecting every individual lullaby on this album. This aural experiment never disappoints, even though I might have one huge question mark floating around in my intoxicated skull: what about those female chants in bonus track My Blood Runs Black? Was that necessary? This leaves me somehow confused… The sound quality of this new record is surprisingly stunning, seen the fact that producer Patrick is not trusted with Black Metal specifically. Still he succeeded to complete this adventure with a rough yet well-balanced sound, quite heavy and low-tuned in nature, and with a well-balanced mix.
So, in conclusion I can say that the pretty youngsters behind Demenzia Mortis created a very worthy successor of Memento Mori. This new one sounds more mature (hey, nothing wrong with their debut-EP; it's just my personal opinion) and the band strongly evolved towards / into an own, typifying sound. And oh yeah, the digipack edition -I almost forgot to mention this- comes with two additional bonus tracks, which are remixed versions taken from the debut-EP.
https://www.helldiest.com/product-page/demenzia-mortis-anti-kult-jewelcase
https://www.helldiest.com/product-page/demenzia-mortis-anti-kult-digipack
https://www.helldiest.com/product-page/demenzia-mortis-anti-kult-lp-black-vinyl
https://www.helldiest.com/product-page/demenzia-mortis-anti-kult-lp-red-vinyl
https://www.helldiest.com/product-page/demenzia-mortis-anti-kult-lp-purple-vinyl
https://www.concreteweb.be/reviews/various-artists-sounds-hell-series-volume-1
https://www.concreteweb.be/reviews/various-artists-sounds-hell-series-volume-ii
https://demenziamortis.com/music/
https://www.facebook.com/DemenziaMortis/