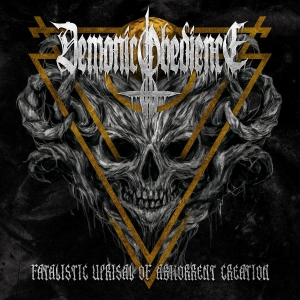 Album Title:
Fatalistic Uprisal Of Abhorrent Creation
When the Greek Death Metal outfits Deceptive Incarnation and, following, The Deepest, were put to rest, Georg Davelas (Ntavelas) started a new outfit, Demonic Obedience (which can be considered the successor of The Deepest). In the meantime, FYI, Georg moved over to Scotland, and that's where he recorded this newest album. Two albums were released before, Morbid Supremacy Of Evil (2014, Azermedoth Records) and Nocturnal Hymns To The Fallen (Satanath Records & Sevared Records, 2016). Both labels, Satanath Records from the Russian Federation and Sevared Records from the American Federation, once again joined forces to have this third Demonic Obedience album released. The eight compositions were recorded in their current home city, Edinburgh (Deception Studio), and both mix and mastering were done, once again, in Greece by long-time friend Achilleas. The line-up, by the way, is this one: Georg on guitar, with vocalist Kruxator and bassist Mark Stormwhipper. For the drum parts, Demonic Obedience worked with a session drummer (one Clark).
Anyway, there were 500 copies, released in a 'regular' compact disc format, with a minimally artificial eight-page booklet, which includes the lyrics of the eight tracks. The total running time is little more than half an hour. Once again, the artwork was done by Paint-It-Black, and designed by label owner Aleksey Korolyov.
The band performs a blackened form of Death Metal with a huge technical approach. No, it is not Tech-Death, but several riff structures and many guitar leads are performed with a highly technically skilled precision. And this also goes, by the way, for several drum patterns and bass lines. A fine detail is the injection of almost likeable tremolo riffs, solos and twin leads, which go quite well with the brutal performance and the aggressive basics on which this stuff is built. Those elements do appear throughout the whole album, taking a lead position, yet they do not overrule the totality. And that too is a surplus, for this band is able to have a fine balance in between melody, aggression, technical constructions and a no-nonsense approach. Another splendid equilibrium is the speed. The main parts are fast and energetic, including several blasts and outbursts. Especially the North-American scene comes to mind in those cases. But more than once, everything slows down, with both sudden / unexpected and organically announced passages that offer sort of a doomy touch.
From instrumental point of view, the whole rather balances towards 'Death Metal' (I know, this is a simplistically generalised approach, but wait, for I want to make a point), for the main vocals, the better part of the leads and about the whole rhythm section just are 'Death Metal', in case you would link this to a simple definition. You can't ignore that. Okay, it's more than 'just Death Metal', with those technical twists and well-thought song constructions, yet still… Yet above all this, you have that blackened thing, caused by some Black Metal inspired screams, a couple of bleak, obscure riffs, these obscure passages once in a while, the cheerful lyrics, and the grim, dense and morbid atmosphere.
Recommended if you like, well, what about Angelcorpse, Incantation, Dead Congregation, Arkhon Infaustus, Internal Suffering, Morbid Angel, Immolation, Kataklysm and the likes?...
PS: also check out this band's side-project Death Kommander…