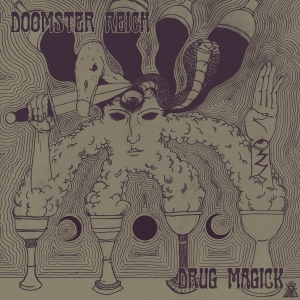 Release Date:
Thursday, November 9, 2017
Łódź-based horde Doomster Reich return with a fourth release, after The League For Mental Distillation (2014, The End Of Time Records, http://www.concreteweb.be/reviews/doomster-reich), Let Us Fall (originally independently released, then re-issued in 2015 by The End Of Time Records; see http://www.concreteweb.be/reviews/doomster-reich-0), and the EP Seven Seals (2017, self-released, and not published on this site – sad smiley included). This newest piece, called Drug Magick, was recorded in early Autumn 2016 at the Radio Lodz Concert Studio with producer Kamil Bobrukiewicz by main members Rahu (vocals, guitars, synths, drums), bass player Radek, and guitar player Markiz. They had been assisted by drummer Michal. The result clocks almost one hour (six titles, so expect quite a lengthy average duration) and there is an official video clip too for one of those tracks, Rites Of Drug Magick (https://www.youtube.com/watch?v=X5z48rb4HeY).
The band still performs a rather 'traditional' form of Doom Metal, timeless and universal in approach, but with such a fabulous we-don't-care-about-your-opinion-attitude. If they do not care, well, then I can add whatever I want, evidently. Because I do care about cool Doom stuff! And this reeks of THC…
No, seriously, what Doomster Reich offer is a truly great, monumental form of 'garage-based' Stoner-injected Doom epic with many known elements, reminiscent of 'the (old school) scene', yet at the same time with a very own approach. The not-that-slow pieces are colossal in heaviness, including a huge dose of psychedelic details and a massive sound. When it comes to the latter, that sound, well, let's say that the production is heavy-as-f*ck. Each composition is like an overwhelming whirlwind, based on a megalithic wall of strings especially. But it is not just a guitar-oriented album at all. okay, the riffs and rhythms are of undeniable importance for sure. So are the swirling leads and piercing solos – which, by the way, are not that allergic to the bizarre experiments of Saint Vitus (hurray!). The bass lines, rhythm guitars and drums (excellently executed!) are at least as prominently represented in the mix, and at least as important to identify this band's approach. And I dare not to forget about the vocals, which might not be that much 'on the foreground', yet because of their modest presence, they create that subtle touch of mysticism and mystery. Which easily brings me to my thoughts on the atmosphere: nasty and, at the same time, mystic and smoky.
The psychedelic details I referred to in the former paragraph, have to do with the thumping melodies and solos, as mentioned, and the evocative vocals. But actually, when you 'delve deeper' into this album – and no, you do not need to have been smoking or chewing any naturally given product (though it might help) – thank you, Mother Earth, for your organic gifts (stoned smiley included) – you get simply overwhelmed by, and veiled within, a hazy nebula of mind-levitating happiness. It is remarkable that this band is able to create such enriching feeling with such ease. Nothing seems forced or fake at all.
I admit that I was pleased yet not totally satisfied by the former recordings of Doomster Reich. Well, this time they do grab me by my hairy b***. Drug Magick impresses the whole of the time. Again, do not expect a renewing album to hear, for this grooving six-tracker does not reinvent the Doom-scene at all. but that is of non-importance. Fact is that the result will grab the listener's attention as from the beginning, and it remains brave, inspirational and interesting until the very end.
Fans of Boar, Dope Smoker, Electric Wizard, Saint Vitus, Acid Witch, SardoniS, Premarone, even Pentagram, Nebula, Hawkwind and, well, actually everything that combines Stoner, Doom and Psychedelica, must pay attention!