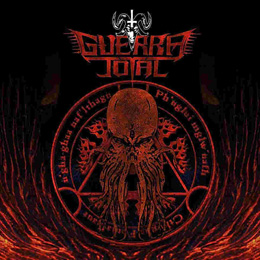 Album Title:
Cthulhu Zombies & Anti-Cosmic Black Goats
1997. Gerson Fabian 'Demonslaught' Toro forms Eternal Drak ('drak' and not 'dark'!). With some friends he records the EP La Resureccion De La Orden Guerrera, which gets released right before changing the moniker into Guerra Total. It takes some time, but as from about six-seven years ago, Guerra Total starts gaining a (well-deserved) popularity in their home country (Colombia) and some neighbour countries (though they also visited Europe and East-Asia). The band records and releases several EP's / splits and four studio albums with a pure DIY-attitude. And now it's time for their next opus, Cthulhu Zombies & Anti-Cosmic Black Goats (for this title alone you cannot but like them…), which lasts for forty minutes.
The album is recorded at Death Fiends Lair by, and hold on: Demonslaught (Ancient Invocator of 4 Anti-Cosmic Winds & Cthulhu Goat Priest), Death Fiend (Eerie Nuklear 666 Strings & Church Destroyer), Jordicaz (Astral Goat Invocator & War Dominator), and session drummer Sick Punisher (though I think it's rather strange to call him 'session member' for this guy collaborates with Guerra Total for quite some time). Cthulhu Zombies & Anti-Cosmic Black Goats consists of ten songs that are lyrically inspired by different love-themes (the funny ones, such as war, terror, death, blasphemy and destruction), as well as H.P. Lovecraft. 2014 seems to be the year of lovecraftian tribute, with tens of bands paying tribute to, or being inspired by that ingenious author / writer / sick poet, but that's irrelevant, as a matter of fact.
Anyway, Cthulhu Zombies & Anti-Cosmic Black Goats brings so-called Blackish Horror Speed Metal, and who am I to gainsay. It is another pure expression of very old First Wave Black / (Teutonic) Thrash / Speed / Heavy Metal, mingling Venom, Bathory, Kreator, Slayer, Bulldozer, Sabbat and Destruction, with hints of Desaster, Deströyer 666, Nocturnal Breed, Bewitched, Nifelheim or, if you want to, the whole Evil Spell Records-roster. It does not renew at all, but once again I do not give a damn about that. It's the quality that counts, and since these guys are able to take us back to the glory days about three decades ago, it is forgiven not to be 'renewing' whatsoever. Besides, it's not only the energy and persuasion that makes this album so fantastic. It's not the fabulous sound either. It's everything, it's as if higher mentioned bands joined forces to create their best stuff in order to satisfy the (old / melancholic) audience. This material rocks, this material rolls, but it does all this with pride and conviction. Every single piece on this album is of a high quality, and that's a truth. Despite being rather primal in approach, and despite being totally old-fashioned, it sounds so actual, and oh so cool!