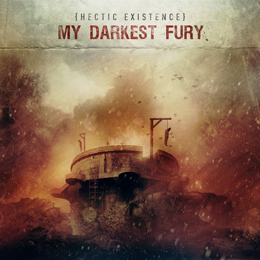 Release Date:
Monday, December 29, 2014
After some years of relative silence, Vologda, Russia-based band My Darkest Fury return with their second full length album, which was recorded in 2010 and 2011, produced by band vocalist / lyricist Artem and I. Sobolev; mix and mastering were done in between 2012 and 2014 at the Portal Records Studio in My darkest Fury's home town. Hectic Existence clocks half an hour, and that's a pity for the quality begs for more; at least if you're a fan of this kind of un-beauty.
Hectic Existence is catchy, modern and technical, even progressive, combining the best elements of Modern Death Metal and melodic Groove, with quite some variation, a forceful sound (yet not too clinical), a professional performance, a dark-edged atmosphere, some fabulous additions (like that introduction to A Road To Nowhere), an extremely heavy rhythm section, and cool dual grunts. My Darkest Fury for sure are not renewing the scene, but within their specific niche, i.e. the high-tech Prog-Death regions, they are beyond standards / above average. Even undersigned does not mind the catchy Metalcore structures (at least not whole of the time). Sometimes they go rather the grinding way (Malicious World is a great example), then again the Groove-laden one, the modernistic or the thrashing direction, yet somehow this band maintains an own identity. Even though I am not that much 'fan' of this genre, I cannot but mention this fine attitude, because showing an own face nowadays, especially within the modern-oriented current, is rather rare lately. In My Darkest Fury's case that's a surplus. And another element I do like too, is their injection of old styled elements. For sure this band isn't Old School in its most pure, virginal definition, but more than once they come up with nothing but a big hail to the roots.