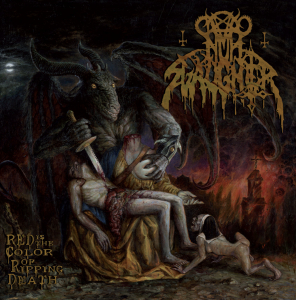 Album Title:
Red Is The Color Of Ripping Death
NunSlaughter do not need any introduction anymore. This band, nowadays located in Cleveland, Ohio, uSSSa (you know, the land of milk-and-honey), is one of the most productive ones on our oh so magnificent black, sorry, blue planet, and this for, well, almost thirty-five earthly years in the mean-time. And their Devil Metal created an enormous fanbase, yet still NunSlaughter remain 'low-profiled' and 'underground'.
A handful of years ago (2015), the band underwent a tragic happening with the decease of long-time collaborator Jim Sadist, and this release, Red Is The Color Of Ripping Death, is actually the first full-length that does not include Jim in the line-up; at least not officially, for a couple of hymns do carry this guy's trademark and spirit for sure.
Yet then again, despite about 665 releases in their career, this album isn't but the fifth (I think) 'real' full-length (lengthy compilations and live-registrations not included). All other stuff are (numerous) splits, EP's and demos. And being a long-time collaborator with the sweet guys from Hells Headbangers, this newest piece of course is a collaborative release in between both of them. There are copies via about all physical formats (vinyl, tape, compact disc), including quite explicit cover artwork (whatever did you expect), as well as digitally available options. The album consists of fourteen titles, having a total running time of thirty-four minutes. Once again everything was mixed and mastered by guitarist Noah 'Tormentor' Buchanan.
I can, and will, keep it short this time when focusing on the sonic side of Red Is The Color Of Ripping Death. Once again this recording is an assault drenched in the blood of traditional Death Metal, still spiced with subtle yet sexy elements from Crust-Punk and from the essence of Metal in all its filthy, devastating purity. But if there is one thing that is clear once more, then it is the permanent progression of this band. Don't get me wrong, for I have followed them as from the early years (somewhere at the very end of the Eighties) and I did never dislike their stuff. But they continuously grow, coming up with stuff much more mature and persuasive than before. Decades of experience strengthens both song-writing and performance, and the more open-minded approach and increased variation (yet still staying true to the roots!) makes any new material by this band more attractive. It is incredible how NunSlaughter know to perform such perverted, maniacal stuff while maintaining a specific catchiness and melodicism. Okay, there might be less of that Hardcore-Punk stuff of Old, and more of a doomed massiveness, yet the foundations are rooted within the very same core. Another truly magisterial aspect is their translation from the Old School into a timeless jacket (a leather jacket, evidently, pierced with spikes and grim-looking pins).
The up-tempo stuff does very a lot in tempo, with quite some cool slower passages (probably even more than before; yet still with more than a hand full of blasting outbursts as well, believe me), more attention for inventive structural mutations, and a richer production. The sound-quality is powerful and overwhelming, without fading away in some over-produced superficiality, but still it has that rough and rusty edge too. The guitars come with a old-stylish roughness, in some way reminding me of the archaic Swedish approach. Fine too to notice is the well-balanced mix, with all instruments and vocals acting along in sweet-harmonious equilibrium. And realizing that all members do know how to handle their instrument (damn, this sounds sick) – new drummer Wrath, for example, is a worthy replacement for Jim – the combination with that well-executed mix results in nothing but morbid positiveness.
Soundtrack for the doomed, the sick, the intolerant and the morbid…
https://nunslaughter.bandcamp.com/album/red-is-the-color-of-ripping-death
https://www.facebook.com/hellsheadbangers
https://shop-hellsheadbangers.com/releases-records.asp
https://www.concreteweb.be/reviews/nunslaughter
https://www.concreteweb.be/reviews/nunslaughter-0
https://www.concreteweb.be/reviews/nunslaughter-1
https://www.concreteweb.be/reviews/hatev%C3%B6mit-nunslaughter
https://www.concreteweb.be/reviews/nunslaughter-witchtrap