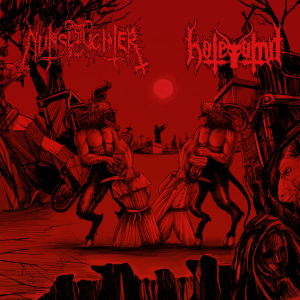 Well, a split in between NunSlaughter and Hatevömit, bringing Devil Metal and Vomit Metal respectively, that must be an ideal new year's present for your grandma! Happy new year, grannie, enjoy…
This is a mini-release, with both bands coming up with two pisses, sorry, pieces, being released in an unholy congregation of Ukraine's GrimmDistribution and Hungary's Metal Ör Die Records. The cover artwork is quite, eh, specific, little controversial and explicit, but is does so intensively fit to the sonic terror and mental rape provided by both acts involved. And for your (futile) information: it is a jewel box compact disc release (besides digital) with four-page booklet.
The split opens with two lullabies by Turkish-German project Hatevömit, a sweet combo that started about a decade ago. They did several splits before (with the likes of e.g. Turkish act Rape or the Hellenic horde Ectoplasma), and it is sort of logical that they now team up with NunSlaughter. Both pieces were recorded over the past years (Terrorsound Studios) and were recorded by main members Damnare and U.N.T. with assistance of some guest / session musicians / vocalists.
Possessed Nightmares is a bestial track, filthy, morbid and malignant, and with its slow-tuned tempo, it sounds macabre and funereal too. For some reason, it reminds me of the unholy bastard child of, let's say, Autopsy and Goatlord, drenched in a blackened juice of Incantation / Ævangelist alike supremacy. NecroFuture is remarkably harsher, like an overwhelming sonic attack that destroys your eardrums as well as your mental sanity. Although, being 'fan' of this kind of aural frenzy can't be related to psychic wellness, evidently. This rageful and vengeful second piece (both of them clock about three minutes and a half, by the way) chops and destroys, mercilessly and happily violently.
The drum patterns are somewhat right-in-the-face, with that typifying hard-hitting tempo, but it fits, for progressive beats would destroy the hateful character. The whole string section is massive, like a wall of noise (no HNW, of course), and it might seem somewhat under-produced and under-mixed. Some might call it a shame, a missed chance, others may understand the underlying f*ck-you attitude too. And especially within the second track, there is some weird mesmerizing thing going on once in a while. And then those grunts, deep, blood-vomiting, bestial…
NunSlaughter do not need any introduction either, I think. As one of the most productive bands on our oh so beautiful planet, Don of the Dead and his crew did tens of splits before. Indeed it got time to join forces with Hatevömit to spread their mutual message of eternal love and peace… Both tracks on this compilation were recorded at the end of February 2017 with a new drummer (because original skin-molester Jim Sadist passed away a couple of years ago; may he rest in pieces, eh, peace…).
Fuck The Bastards and Satanic Slut are shorter hymns (01:46 and 02:12 respectively), but the message is clear: NunSlaughter are here to entertain you! When listening to these two compositions, a stench of sulphur spontaneously appears, and I am quite sure that the priest from the church in my small local village gets haunted by inner demons right now. Anyway, it is remarkable that this band is able to combine melody and malignancy so easily, without exaggeration (though…) or without losing itself in fakeness or clichés.
Striking is the overwhelming sound quality. No, the band did not turn mainstream, for the whole still exhales that dirty, rusty production sound. But the mix is truly, well, top-balanced, focusing on a perfect equilibrium of all individual ingredients. And the Devil saw that it was good…
Vomit Metal. Devil Metal. Whatever Metal. Metal forever (ör die…)!
https://grimmdistribution.bandcamp.com/album/037gd-nunslaughter-hatev-mit-nunslaughter-hatev-mit-split-2019
http://satanath.com/distro/item/037gd.html
https://hatevomit.bandcamp.com/album/hatev-mit-nunslaughter-split-2019
https://www.concreteweb.be/reviews/hatevomit
https://www.concreteweb.be/reviews/nunslaughter-witchtrap
https://www.concreteweb.be/reviews/nunslaughter-1
https://www.concreteweb.be/reviews/nunslaughter-0