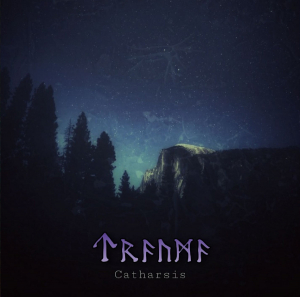 Not that very long ago, I got in touch with Chris, a nice person who runs the amazing label Depressive Black Ambient Records. I was surprised by what this label did release as from the start: great works through obscure and oppressive, ominous and odious sounds from beyond the putrid abysses. Destruction and self-mutilation, hate and self-hatred, fury and nostalgia; this label doesn't share joy or happiness…
No, seriously, I was – and still am – positively [*] surprised by all first works so far. Depressive Black Ambient Records did release two hand full of new gemstones in the mean-time, but I still want to finish my review for the first Trauma release on this Poland-based label, entitled Catharsis. This Mexican project did release a new album for Depressive Black Ambient Records in the mean-time, called Aurora Boreal, but first things first. Catharsis is (or was?) a very limited physical (compact disc) re-release (no idea whether it is sold out, sorry…), still available as well via digital sources (links below).
[*] please do forgive me this optimistic description, for I do not want to spoil the darkening fog in our heads…
Skymning ('atmosphere', i.e. song-writing & sounds) and Månen (texts and voices) have twelve pieces gathered under the emblem of Catharsis, clocking about fifty-seven minutes. The concept is based on the main-man's journey through the dark woods during several months. During that period, he was able to observe several witch covens in those woods, carrying out magic rituals and performing mystic ceremonies, sometimes for the good, then again for the dark, the evil. Witnessing these rites, the consciousness of the sickness called 'modern society' and 'social media' are foreign, a plague to enslave humanity. The seemingly pristine yet oppressing forest and the audacious witches and secret covens of magic and sorcery provoke reality and insight.
The different pieces on this album are quite diverse in composition and recording performance, but this is not a problem right here. Despite the varied approaches, Catharsis surely is a cohesive work, for the atmosphere and well-executed approach are coherently in-depth to the core. Every 'song' is part of that mysterious and overwhelming peregrination; an aural voyage as therapy to formulate the creator's thoughts and visions.
That diversified approach already starts with the intro Catharsis, a mixture of darkened sounds, eerie synth lines, melancholic piano, proggy ambience, minimal acoustic guitars (!), deep drones and a lot of samples (spoken words and other invocative or nasty voices, gun shots, you know, and many 'sounds-of-nature' getting repeated in other compositions on this album). The following tracks Frágil and Grey Sunset, for example, go on in a comparable vein, but these 'songs' bring such mysterious and mystic atmosphere to mind, a ceremonial expression of pagan sorcery and Mater Terra tributing elegance (cf. the evocative whispers and singing birds). Gloomy keyboard waves and hypnotic piano, combined with those witchy voices, get canalised into a truly overwhelming, although softly-provoked, experience with a dense, somewhat claustrophobic atmosphere. The heavily droning soundscapes and additional noises are both intoxicating and asphyxiating, yet still leave room for enlightening inspiration and aspiration.
Titles like the short interlude Sanctuary Of Blood, then again, bring totally frenzy discordance, while Det Är Melankolistk and the likes focus on some weird equilibrium of Nature-based samples (water and whales, for instance) with minimal 'melodies' on piano, penetrated by lunatic (percussive) additions. Crossing, at the other hand, has something ethereal, even levitating and meditative, yet fiercely pierced by martial and obfuscating elements. The equilibrium of dreamlike, hypnotising melodies with smothering drone-melodies works confusing and, at the very same time, transcendental. And what to think about Ritualia with its tribal and militant character, an aural oblation to praise the dark spirits of Old.
Totally different – and then again not at all – are pieces like La Tristeza Del Bosque (which features label-mate More Suicide) or Deep Pression, which are some chaotically and dissonantly performed compositions of sadistic (!) DSBM-alike malignancy; or what about a track like Heart Of Stone, a psychedelic tribute to the howling wolves in our head, spiritually guiding us through dimensions of the unconscious.
Trauma is an example of 'like-it-or-not'; I can imagine the discomfort when experiencing this lengthy piece of anti-music audibility. But once you see through the mist that covers this collection of aural creations, the result might become a twisted form of satisfying pleasure. Give it a try and dissolve into untouchable marvel and interminable aphasia.
https://www.depressiveblackambient.pl/p/trauma.html
https://depressiveblackambient.bandcamp.com/album/dba-black-006-trauma-catharsis-2020
https://traumaofficial.bandcamp.com/album/catharsis
https://www.concreteweb.be/reviews/36th-movement
https://www.concreteweb.be/reviews/trwoga
https://www.concreteweb.be/reviews/depressick
https://www.concreteweb.be/reviews/removed-life
https://www.concreteweb.be/reviews/antikythera