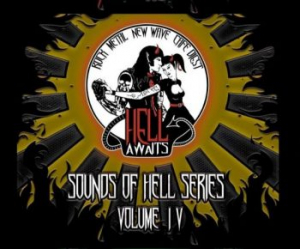 Album Title:
Sounds Of Hell Series Volume IV
The compilation Sounds Of Hell Series Volume IV is, indeed, the fourth one in a series compiled by Sounds Of Hell, a young yet deeply dedicational label from Flemish soil (the ancient-historic city of Diest, more specifically, in case of interest). The series focuses on lesser known and not that unknown bands and projects from the Benelux area (i.e. Belgium, Holland and, who knows, Luxembourg too). They're totally related to the Hell Awaits community, a place-to-be that organizes cool gigs, which offers cooled beers, and that gathers 'fans' of all kind of Rock, Metal and (New) Wave Music in general. …dedicated to good friends, good times, good memories...
In the meantime, the label did release a handful of interesting albums (not only from Belgian soil, like Ill, Demenzia Mortis or Dead Serious, but also from, for example, France – Psychisme – or Italy – H) (PS: some have been reviewed in the meantime; the others will surely follow soon). But let's now focus on the fourth release in that compilation series. In extension of the former ones, I won't go too deeply into the whole biography and discography of the bands and projects involved. Yet then again, a small word of introduction and a concise description of the track featured on this album will do just fine.
The compact-disc, by the way, once again comes with the very same cover artwork, yet with a slightly differing colour-palette once more, and with inclusion of an A5-sized booklet, which includes some additional information too. And purely informative, but seventeen out of eighteen bands are Belgian; only one does come from Holland.
Fabulae Dramatis (bel), The City: a project from Antwerp with Colombian connections. This track was originally digitally and independently released in 2020 (as The City (Translucent)). It offers a very varying, rich audible adventure, mingling modern and melodic (Death) Metal with both progressive and acoustic excerpts, and injected with some not-that-evident instrumentation (harmonium, sitar, djembe etc.). Lead guitars and impressive soloing, different vocals (Isabel has a warm clean voice as well as an extremely intensive and deep growling throat) and a monumental grooving rhythm section are like the ingredients for a modernistic, theatrical adventure.
Anzium (bel), War: the successor of Alternative Rock / Grunge / Punk / Street act Blast!, formed ten years ago. As Anzium, with a renewed line-up, these guys self-released the album Vitamin W in 2020; War is taken from that full-length. They still find inspiration in Garage Rock, Punk and Grunge, translated as harmonious and melodious, even timeless-sounding Groove Rock with a pounding energy and a mesmerizing mood.
Breathless (bel), Breathless: this band from Ghent was active during the Eighties; back then, they did perform live on stage with none less that the likes of Helloween, Axe Victims or (my eternally dedicated) Warlock. They released their sole album in 1985, which has been re-released in 2021; this track comes from that (legendary?) album from more than thirty-five years ago. Ah, it's purest melancholy, this animated, highly-energetic Old School Speed Metal, including fiery solos, up-tempo rhythms, both firm and high-pitched vocals and that legendary Heavy Metal epic from the Eighties.
Virus Inhumanity (bel), Baptized In Fire: a young Limbourg-based quintet, inspired by the 'worldwide hostage' and known from last year's EP Infectious (this song is taken from that self-released recording). These guys bring a melodic and grooving form of timeless Death Metal / Metalcore with a nice balance in between technical experimentation and traditional grooves. Pushing and sometimes djenty rhythms, deep growls, hypnotic melodies (multi-layered) and fierce solo-work are canalised into an extremely powerful, overwhelming result.
Soul Eraser (bel), Up: I am not sure whether they are named after the same-called song by mighty Kreator, but this horde pays tribute too to the core of Metal in general. This piece translates Heavy Metal from the Old School with a modernistic twist, an excellent performance crew, and a really cool, 'full' production. It contains all necessary ingredients: haunting leads and crafted twin-guitars + solos, little rough yet melodious vocals, harmonious choirs, tight drum patterns, you know, that what characterised / characterises the earlier years, yet with a contemporary production.
Kerbeross (bel), Servants: this is a young four-piece that independently released a first EP in 2021; the track on this comp is the title-song from that release. As from the very beginning, i.e. a neo-classical piano melody, soon followed by ringing bells and haunting keyboards, one can smell the dust and humidity of that old, haunted castle. Seriously, these guys bring a very energetic form of Symphonic Gothic Death Black Metal with both catching structures and bombastic blasts. Monumental and overpowering, with many synths, eccentric textures, brutal voices and a thunderous rhythm section, and much more.
Pandemonic (bel), Stroatenoajer: an act from the Belgian coast, a region where they do talk an unknown language (West-Vloamsch), which explains the weird title of their contribution. They perform a very unique and specific, and weird / unusual, form of Rock Music, which includes electronic and industrial elements, details from Gothic and Kosmische, Doom, Psychedelic Rock, Avant-Garde and Progressive Music. And you know, despite this anti-trendy mixture of relevant genres and influences, it works, oh yes, it does work. It's like the soundtrack for some psychotropic sci-fi movie, a video game, an Industrial Space Rock Opera.
Catalyst (bel), Sustainable Dignity: this track was one of the first recordings by this quintet and was part of the recently released EP Catalyst II. It stands for a very modern form of Metalcore and Death Metal, including a catchy play, creative riffing, varied vocal lines and progressive melodies. Despite the modern attitude, you still experience a timeless force behind it, referring to old styled Heavy Me(n)tal passion.
Elusion (bel), The Tales That Trees Tell: a band formed by former members of e.g. Ancient Rites, Keltgar, Gracefallen and Axamenta, and currently working on their second full-length. This track initially appeared on their 2019 album Singularity. It starts quite intriguing, with some children's voices, followed by a tribal part (shamanistic percussions) and folksy melodies, even including dissonant flutes and Oriental melodies. Further on, this piece stands for Orchestral Gothic Metal with very nice (female) chants (Evy Verbruggen; also introducing some grim throat-work too), catching melodies and atmospheric passages.
Sulfeet (bel), Spectre: this band was actually formed as a tribute-project for S.O.D. somewhere during the Eighties, but after a while they started writing and recording own material. After several decades, these guys and girls are now finishing their debut full-length, yet they do have two EP's as well in the mean-time. Spectre is taken from their 2018-release Dark Ages. They perform a very unique mixture of Metal and experimentation, with so many things going on. It opens, for example, like some world-war artillery-like salvo, like a tank thundering down from a hill in an avalanche. There are these weird and diverse, but absolutely great (!) vocals, Speed Metal-like solos, that progressive intermezzo, a semi-emotional ballad-like excerpt…
UneducateD 2.0 (bel), Communication Failure: another grooving Flemish act, entering the modern ages seen their '2.0' suffix; track taken from Trust In Hope For What Shall Come. This track is extremely catchy, with recognizable melodies, energetic structures and a captivating grooving vibe behind it. These lads have fun while playing, that's a certainty, but the result isn't just a cheap laughable thing. Despite the somewhat simplistic basics (which is not exactly meant negatively), the outcome is a neck-breaking joy.
Crossfire (bel), Feeling Down: this was (and still is) a legendary band from Flemish soil that started more than four decades ago (!). Old material is now being re-released through diverse sources, for the interested ones. This specific track comes from the 1985-album Second Attack and does totally sound like the magnificence majesty of that era: speed-up, fast-forward and vigorous Heavy / Speed / Thrash Metal. Rabid riffs, cutting solos, forceful voices, pounding drum-patterns and a tempo that leaves no room to breathe; this is Manowar-meet-Warlock-meet-Motörhead-meet-Venom-meet… Well, yet got it, don't you…
Skull Collector (bel), Verminous Black Death: this too is an older band, yet despite twenty-five years of existence, they did not record and release much material. But Skull Collector are currently working on a new album. This track is like an appetizer for more brutality and morbidity to come. In an uncompromising way, they bring a monstrous assault, a violent and unstoppable attack on the brain, the skull, the mental being. It's like an universal form of little technical Brutal Death Metal, mercilessly injected by grinding and warlike elements. Blasting double-bass, blitzkrieg-oriented, ultra-deep and menacing grunts, grooving passages, hypnotic melodies and unhuman riffage are molten into something that both caresses and rapes man's brain.
Objector (bel), Vengeance Will Be Mine: this deals with the Flemish band acting under that moniker (there was one in Wallonia too), a socially-intolerant formation that recently went through different line-up changes. Anyway, Vengeance (Will Be Mine) is taken from 2018's EP Social Intolerance and pays tribute to the roots of Thrash Metal; you know, the Exodus / Dark Angel / Infernäl Mäjesty / Slayer / Kreator / Destruction majesty of old. It has everything that reminds of these glorious years, going from the semi-shouting vocals, the sharp-edged and rusty solos, the thunderous drum-attacks, the violent yet semi-melodic riffing, the devastating rhythm strings, you know, Thrash Metal like it's meant to be!
Cult Of Scarecrow (bel), Lazarus: a track taken from their newest full-length, Tales Of The Sacrosanct Man, which was released last year through WormHoleDeath Records. Harmonious melodies and atmospheric epicism create an imaginative world, a narrative that combines elements from (Epic) Doom, Gothic, Dark Metal and heroic Heavy Metal. It is another rich, fruitful track, with a lot to experience, going from a wide diversification in tempo and structure, as well as the injection of dreamlike solos, grungy breaks and soft-orchestral passages.
RVH Project (hol), Caught In The Middle: this is a project by vocalist and guitarist Rick van Heuzen, who joined forces with some other musicians to record the debut Enter The Machine (independently released very recently). Groove, Wah-Wah, Space-Rock, Alternative, Post-Rock, even Funk (those bass-lines), Blues, Doom Rock and Stoner, all with a Sixties / Seventies flair, are mingled into a catchy, spacelike, even poppy song taken from that album.
The Bad Hairday Experience (bel), Grenouille: a four-piece that initially started as a cover-band for Seventies-oriented Rock Music, but that evolved into a combo with own songs. Grenouille, which is French for 'frog, still find their influential sources in the scene from the Seventies and earlier Eighties, with a catchy mixture of Blues Rock, Punk and Groove. The French lyrics (plus that raw, hoarse throat) and repetitive lead melody give the whole a dimension of both rebellion and insurgence, like a sonic interpretation of one's middle finger in the behind of society and its politicians.
Artefacts (bel), Nephereth: this act is more than 'just a band', for they do create a whole package of both sonic and visual storytelling. An example is this track, part of The Titan Chronicles, narrating about a dark universe. Mighty orchestrations, powerful metallics, doomed majestics; Artefacts perform a very bombastic and theatrical form of Symphonic Black / Blackened Death Metal, you know, in the vein of Cradle Of Filth, Carach Angren, Dimmu Borgir and the likes. It's fast and energetic, it's varied in speed and design, and it's still cinematic and adventurous.
…as said, a brief and concise word on each of the tracks featured; more detailed information will come in case of any review on an official release by any of aforementioned bands or projects. But this might give you an(other) idea of the distinctive and strong scene from the Lowlands.
Sounds Of Hell are working on the fifth compilation, as well as a sampler that trespasses the borders of The Netherlands and Belgium. Stay tuned and cheers, folks!
https://www.helldiest.com/product-page/sounds-of-hell-volume-4
https://www.concreteweb.be/reviews/various-artists-sounds-hell-series-volume-1
https://www.concreteweb.be/reviews/various-artists-sounds-hell-series-volume-ii