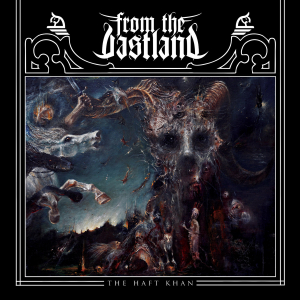 The origins of From The Vastland are rooted in Iran, the birthplace of founding member Sina. Iran actually has an extremely small yet enormously interesting Black Metal scene, but breathing 'Iran' and 'Black Metal' in one gasp is not always that evident. Some acts therefor remain in anonymous spheres, but in the case of From The Vastland, Sina took the decision to move over to Norway. For more information about this story, check out the .net or the information in some of my previously posted reviews.
Throughout a decade of raison d'être, From The Vastland recorded (and released) some excellent albums, heavily inspired by the Nordic scene: Darkness Vs. Light, The Perpetual Battle (Arx Productions 2011), Kamarikan (Indie Recordings 2013; once reviewed for this site by a former colleague), Temple Of Daevas (Non Serviam Records 2014), Blackhearts (2015-EP, Symbol Of Domination Productions + Hexenreich Records + Sphera Noctis Records), Chamrosh (Immortal Frost Productions 2016) and Daevayasna (Satanath Records + The Eastern Front, 2018). Reviews on the three last ones too might be found on this site, professionally (evidently) written by yours truly…
No, seriously, as you can see when analyzing my thoughts on the former albums, I do appreciate this project's dedication to the sound of Norway and its influential scene. Actually, Sina (voices and guitars, music and lyrics) did work throughout the past years with famous musicians from bands like 1349, Myrkskog, Keep Of Kalessin, Horizon Ablaze, Nordjevel, Gorgoroth, you know… With this new album, he joins forces once more with bass player Tjalve (Svartelder, Horizon Ablaze, ex-Den Saakaldte, ex-1349, ex-Pantheon I) and drummer Spektre (Svartelder, Gaahls Wyrd, Horizon Ablaze, Harm). The whole thing was eventually mixed and mastered at the Oslo-based Strand Studio by famous studio wizard Marius Strand, whom you might know from his assistance with bands like his own Black Comedy, Trollfest, Svarttjern, Den Saakaldte, Susperia or Borknagar.
The lyrics of each From The Vastland release have always been inspired by the Persian mythology in general, and in extension everything that has to do with Zoroastrianism, Mesopotamian cults and myths, and Oriental / Middle-Eastern history in general. The Haft Khan too follows that path. It's based on the Shahnameh poem, a specific poem taken from that Book of Kings, originally written about thousand years ago by some Abu-Al-Qasem Ferdowsi (a Persian author who lived from 935 to 1030 A.C.). more specific, this lengthy poem deals with a hero and his horse and his quest to free a king from the land of Mazandaran. It's a fierce adventure with vengeful demons, rabid beasts and the evil forces of nature. Sina uses this literature as a metaphor of current existence.
Physical: 500 copies with twelve-page booklet, available via Russia's Satanath Records and Mexico's Iron, Blood and Death Corporation, with once again intriguing cover artwork; this time courtesy of K.A. Meland, who is no stranger to this combo at all. But let's focus on the sonic side of this album.
And damn, damn, damn, but Sina permanently 'grows' within his Nordic approach. First I have to say that he is not evolving into catchy, predictable or superficial regions. Too often, I have known bands that loose themselves into a wider audience-minded approach, rather focusing on 'likes' and followers than staying true to their initial fanbase. Well, when talking about this project, From The Vastland sticks to its original pattern of Nordic-styled epic and tradition. This act stays true to the firm and melodious approach that characterizes the Scandinavian scene (I want to generalize this approach), continuing that proud, rhythmic, victorious execution once more. And with 'proud', I mean 'epic' for sure. I do not want to compare to Bathory just like that, but that final sequence of Khan E Dovom, for example… …nor to early Satyricon, yet what about the opening fragment of Khan E Sevom?... …and so on…
The Haft Khan is a truly magnificent album that balances in between a 'popular' (normally, I do detest such description, but here I am rather referring to a significantly recognizable song writing and performance) and an unorthodox execution. From The Vastland surely sounds comfortable, with its victorious melodies, majestic rhythm section, raspy voices, its remarkably professional sound quality (I will come back to this immediately) and the subtle yet great additions, like the martial introduction to Khan E Chaharom. In the vein of the former material, the variation in tempo, lacking stupid exaggeration, and the self-developed structures of all compositions involved, are well represented, and therefor the result is, once again, memorable and somehow addictive. The deep-thought compositions have a lot to offer – no, they are not creating a new approach at all – but they are enormously unique, convincing, overwhelming and somehow distinctive too. The few acoustic or rather Middle-Eastern aspects, very modest in use, are an example of the modesty, yet also superior craftsmanship, of this horde.
A word about the production. Well, this one is very decent, even virginally blank. But don't worry, for this stuff does not sound ridiculously clinical either. With that decent approach, I am rather talking about the well-balanced mixture of all instruments, in combination with a neat sound – lacking any background noises, underestimated rhythm instrumentation, or inferior (or under-produced) elements whatsoever. There is a certain rawness going on, especially within the song writing + performance, but the sound quality surely is not poppy, fake-catchy either. Let's praise the Khan for that subtle rustiness!
Only few band manage to maintain their convincing strength when they stick to their original approach. Some permanently evolve, others fade away in boredom. However, From The Vastland stay true to their original sound, but somehow they keep growing. The Haft Khan is not a renewing recording at all, and those looking after progression or evolution better stop reading (haha, we're at the very end of this review, so I might have fooled you). But with this album, the craftsmanship in both song writing and recording capacities has no boundaries, no limitations. As said, you won't find any track that sort of reinvents the whole scene. But then again, there is not one single composition that leaves the listener untouched. All seven of them are captivating, hugely intriguing and, above all, acting as one enormous sonic adventure.
https://satanath.bandcamp.com/album/sat294-from-the-vastland-the-haft-khan-2020
http://satanath.com/releases/item/sat294.html
https://ironbloodanddeath.bandcamp.com/album/the-haft-khan
https://www.concreteweb.be/reviews/vastland
https://www.concreteweb.be/reviews/vastland-0
https://www.concreteweb.be/reviews/vastland-1
https://www.concreteweb.be/reviews/vastland-2