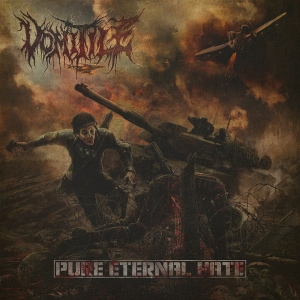 Release Date:
Wednesday, April 18, 2018
One of the longest-living, and most influential, (Death) Metal bands from Cyprus is Vomitile, active since 2007. They have three official releases since then, the independently released EP Rotting Life (2010), the debut full length Igniting Chaos (Horror Pain Gore Death Productions, very early 2013), and Mastering The Art Of Killing (2014, Pitch Black Records). Then total silence entered their planet, at least when it comes to song-writing and recording sessions; it did not mean that the band had faded away. The line-up did not change that much; the sole thing is that bass player Khatch Yildizian took over the vocal duties, after former singer Yiannis left the band (but that was already the case on the last full-length studio recording, actually).
Khatch (bass and vocals, as well as the lyrics), Panos Larkou (guitars), Hugo Olivos (drums) and George Yildizian (guitars) wrote several new tracks, which they recorded and self-produced at the Soundscape Studio. The result gets released via Russia's Satanath Records, this time in partnership with the strongly underestimated Spanish label Hecatombe Records. Pure Eternal Hatred gathers ten tracks that clock thirty-seven minutes.
Compared to the past, Vomitile did not exactly evolve a lot. Okay, the song writing might sound more catching and mature (that was my biggest 'problem' with the former releases, cf. a review like this one: http://www.concreteweb.be/reviews/vomitile), but they still perform a very traditional form of timeless and universal Death Metal. 'Traditional', 'timeless' and 'universal' are three important keywords in my former phrase. It means a lack of originality, or at least the fact that this band does not reinvent the scene at all. Is this a sad, negative aspect? No, not at all, at least as 1) you like this kind of stuff and 2) the result is satisfying. I can't say anything about you, dear reader, as being 'fan' of this genre, but when it comes to the quality of Pure Eternal Hatred, well, then I can say that the average quality of the compositions is not bad at all. Those trusted with Igniting Chaos or Mastering The Art Of Killing will surely agree (great evolution in comparison to the past!). Vomitile perform honest, conventional Death Metal, including the necessary ingredients: deep and gurgling grunts, technical riffs, sharp solos (the one in HateField, for example, is simply adorable, haha), melodic leads, blasting drums (great double bass drums – listen for example to Glorify The Insane), snarling bass guitars, and on top of it a monumental production quality and quite some changes in structure and speed. It keeps the middle in between the old school, yet in a subtle way packaged into a contemporary sphere. What strikes me is the fact that there aren't that much blasting eruptions. On the contrary, the better part dwells in between almost slowed-down and mid-tempo. But it is not inferior to the heaviness, believe me! There is a war-like attitude going on, rather than a theme of gore and perversion, which comes back within the lyrical themes too, evidently. And another important aspect is the enthusiastic 'groove', not of the 'funny' kind, yet eruptive, striking and pushing. In collaboration with the highly technically skilled performance and the variation, the groovy aspect adds a great value, which one needs nowadays, seen the overload on comparable releases.
Recommended if you like Vader, God Dethroned, Vomitory, Unleashed, Hail Of Bullets, Krisiun, Dementor, Malevolent Creation, My Darkest Hate and Bolt Thrower.