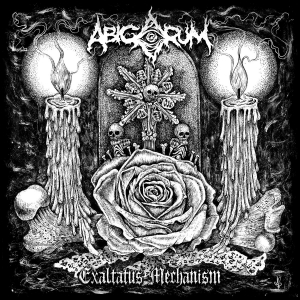 Well, this was something I did look forward to so passionately! When Aleksey Korolyov told me there would be a new Abigorum album, I couldn't wait to listen to it. I was (and still am) very impressed by all former material he created under this moniker. But there was more. Apparently he did not create this album on his own anymore. No, this time he co-operated with some other musicians, turning Abigorum from a solo-outfit into a real band.
Anyway, before getting deeper into the aural aspects of Exalted Mechanism, the newest Abigorum album, a short introduction. Aleksey is a very active St. Petersburg born Metal Music fan, active as both musician and label owner / distributor. He's the guy behind the grandiose Russian label Satanath Records, as well as both Symbol Of Domination Productions (based in Belarus), DeadDogSkull & HeilHellProductions (Lithuania; although, if I am not mistaken, it became independent) and GrimmDistribution (Ukraine; this one actually is a befriended label, rather than a sub-label). With these three labels, Aleksey released hundreds of releases, especially Extreme Metal oriented, nowadays also including the re-release of hard-to-get classics for the Russian market. Well, check out the Bandcamp-pages for these labels to learn more. Aleksey is a musician too, active in Satanath (rather Space Ambient / Drone oriented) and, since a couple of years, member of DSBM project Taiga too. And yes, as said he's the founding member of Abigorum, a project he started in Spring 2012.
As Abigorum, Aleksey did record a limited yet highly interesting couple of things, amongst which a split with Striborg (released in 2018) and a collaboration with Cryostasium (2016). Earlier this year, he joined forces with two German musicians, and as from then on Abigorum became a three-piece band. On the newest album, Aleksey 'Satanath' takes care of drums and keyboards especially, while the basses get performed by (female) string-caresser Sandra 'Pesthexe' Batsch, and while the main guitar parts and vocals are performed by Tino 'Fluch' Thiele. You might know this guy from, for example, Wulfgar or Metamorph, or new outfit Trond (for which I will write and publish a review soon). The latter also wrote the lyrics, which are in German especially (with some fragments in English too). This guy too sort of surprises with this recruitment, for he usually performs as solo-musician (just like Aleksey).
Actually, Exaltatus Mechanism is the first 'real' full length, which gets released via Satanath Records in co-operation with Death Portal Studio (not the first collaboration in between both labels, by the way). Besides a digital edition, there are 500 compact disc copies, released in a 'regular' jewel case with an eight-page booklet. The latter comes with fine cover artwork (by Romanian visual artist Luciana Nedelea, who also created (cover) artwork for the likes of Empyrean Throne, Nachteule, Cryostasium, Kalmankantaja or Trond) and includes the German lyrics.
What immediately strikes me is the evolution Abigorum made throughout the years. A funereal approach was created as from the earliest years, and this still is the case. But each release, despite a comparable content, did slightly differ from any other. That is exactly the case once more with Exaltatus Mechanism. That funerary sound is the basic sound once more, including the doomy attitude / tempo. And there's so much bleakness too…
Take opener Grau Und Schwarz, for example: Black / Doom majesty with quite some variation in structure, and a heavy-as-Hell sound. There is – and that actually goes for the better part of this album – a huge vocal diversification presented (screams, grunts, sighs, spoken words, whispers), while the atmosphere is bleak, grim and abyssal. In some way, Abigorum mingle aspects from Ahab, Adaestuo, Monolithe and early Samael. And when talking about the latter (and the other references): this repeats itself throughout the whole album. The approach from Swiss act Samael in its earliest years (up to the unique classic debut full length Worship Him) seems to be a huge influence (coincidence or not?).
But Abigorum are more than an act inspired by higher mentioned bands. With this album, once more they create a massive piece of monumental aural art, mysterious, somewhat naughty, extremely freezing, and deeply throttling. The result turns out to be a fabulous sonic journey, a great mental experience with so many things to dissect, to uncover, to discover. Do not expect high-tech progression or renovative tactics, for the better part is quite 'simplistic' in essence. But that is what this band is all about: creating and performing honest and pure Doom / Black ambience based on the timeless and universal principles.
Sound-wise, Exaltatus Mechanism is incredibly heavy and powerful, overwhelming and oppressive. That's a good thing, for the mix is very decent, yet the final result maintains a rough, anti-clinical and unpolished fierceness, strengthening the doomy hymns in their force and persuasion. The vocal lines are somewhat background-placed, but I think it makes the whole listening experience even more mysterious and untouchable. The focus lies on the string parts rather than the rest, yet without underestimating the other instrumental details. Fine to notice is that the drum patterns, sometimes martial, then again impending, have a certain dungeon-alike character.
https://satanath.bandcamp.com/album/sat247-abigorum-exaltatus-mechanism-2019
http://satanath.com/releases/item/sat247.html
https://www.concreteweb.be/reviews/abigorum-striborg
https://www.concreteweb.be/reviews/abigorum-cryostasium
https://www.concreteweb.be/reviews/abigorum