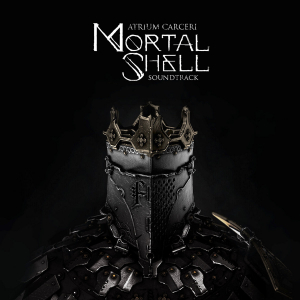 I will be honest (as if that's my trademark), but I was thinking about how to introduce the project and the label this time. But you know, none of them do need my (evidently professional and comprehensive) promotional talk anymore. So I will keep it short.
Cryo Chamber is a fabulous label when it comes to Cinematic and / or Dark Ambient material in general, with a fabulous roster consisting of some of the best projects around. I mean that!
Atrium Carceri is a fabulous project when it comes to Cinematic and / or Dark Ambient material in general, with a fabulous curriculum vitae for sure. I mean that too!
Aaah, that was easy…
But, besides, both Cryo Chamber and Atrium Carceri share the same human (I guess that 'human' fits) being, i.e. Simon Heath, visual artist, studio master, musician, label owner and general artist (you're welcome), but the connoisseurs or amateurs around know that, of course. And that brings me, quite easily, to the introduction of Mortal Shell (Soundtrack), even though the background might not be my cup of (psilocybin) tea. Mortal Shell actually is a video game, developed by Cold Symmetry and published by Playstack.I admit: this information is totally based on information I received, or found, because I have no feeling with digital games at all.
However, apparently, Simon Heath's project Atrium Carceri created some kind or soundtrack for that game, and since I am addicted to aural material, it isn't but logical that I did sort of investigate this sonic effort a couple of times. And indeed, I do understand the link with that elusive virtual game dimension; however, Mortal Shell (Soundtrack) is more than a collage of fabricated sounds for gamers. The whole Ambient community, even lacking interest of that game circuit, might be interested in the aural result done by Atrium Carceri.
No, seriously, at least for a while. Mortal Shell (Soundtrack) consists of Music from / for that specific game, and some more bonus material, taking us – and now I will quote – 'to the dark twisted landscapes of Fallgrim and beyond its dusty crypts'. That might explain the obscure approach, of course. It deals with 'dark summoning rituals and industrial fused beats', when we, brave listeners, 'journey, die and rebirth into a cycle of despair, flagellate and repent to reach enlightenment'. That concept indeed carries the whole aural majesty gathered as Mortal Shell (Soundtrack) (though, without the 'gaming' sequences, for me – but hey, this is a review on a sonic release, so it is my right, and my duty, to focus on the aural side – and if you do not agree, then just [self-censorship - with a smiley included]).
Before getting deeper into the sonic side: the compact disc edition has a sixteen-page (!) booklet / deluxe 16-page hardcover, with cool artwork by some Vitaly Bulgarov. The twisted helmet shows a duality, a struggle and, at the same time, a powerful might, vengeful, furious, indestructible too.
It would be easy to say that this material slightly differs from what we're used of by Atrium Carceri. Then again, throughout the years, all release did have their specific trademarks, and since this one was created especially for another purpose, the support of a game, so it's sort of logic that the outcome is slightly different once more. And then again, at the same time, the footprint of Simon cannot be ignored. The album consists of fifteen titles, but the cohesive story is reminiscent of Atrium Carceri's past, yet as said, once again with a distinctive approach.
Actually, these pieces – shorter than ever before (most of them last in between two and four minutes of length, some even shorter, and the lengthiest one clocks nearly five minutes) – are like individual fragments of some huge adventure, like small chapters gathered as one consistent, sequacious epos. But as one huge story, they do tell about a quest, with separated yet coherent fragments, as one gigantic tale, created to narrate about a magnificent epic of sanity and resilience in a shattered world.
A remarkable fact is the common thread through the whole album, being based on a dense, oppressing, somewhat splenetic mood and ditto sound. In general, Mortal Shell (Soundtrack) consists of obscure and ominous, smothering drones and an inauspicious and sinister ambience. That may be the foundation of the better part, and the characteristic core of the whole album, but then again, each individual 'song' narrates its own share within this aural recital.
And that's where the sublime professionalism of this project's creator comes forth. All these separated sections are typified by an own specificity, which can be traced back to the use of post-apocalyptic samples, colossal and overwhelming drones, obfuscating pulses, ritual passages, industrial fragments, and much more. The subtle use of apocalyptic and industrial noises, martial beats, abyssal and asphyxiating synth lines, gloomy (female) choirs and shamanistic (throat) singing, militant yet somehow tragic pulsations, hypnotic and ritualistic patterns, and the many layers of (digital) instrumentation, result in an overwhelming, murky and dreary ethos. It's a world of Doom, of fallen heroes and tragic stories, sad fairytales and rebirth in desolated landscapes (can you imagine); the report of a combat, strategic, deliberate and unforgiving. Yet also about heroism, victory, survival, persuasiveness and reign, force and tenacity. And taken from sonic point of view, or listen, Atrium Carceri once more did create a gargantuan auricular epopee, a prodigious soundtrack (indeed), a darkened sonic translation of heroism and combativeness, of insurmountable and inevitable fate.
Or: Mortal Shell (Soundtrack) – and forget about that 'game' sequence – is, well, a next step within Atrium Carceri's overawing career. It's remarkable how easy it seems for front-man Simon to gather and canalize the many elements and spheres into one huge (auditory) story. Game (not) over!
https://cryochamber.bandcamp.com/album/mortal-shell-soundtrack
https://www.concreteweb.be/reviews/atrium-carceri-cities-last-broadcast-god-body-disconnect
https://www.concreteweb.be/reviews/atrium-carceri
https://www.concreteweb.be/reviews/atrium-carceri-0
https://www.concreteweb.be/reviews/atrium-carceri-cities-last-broadcast
https://www.concreteweb.be/reviews/atrium-carceri-herbst9