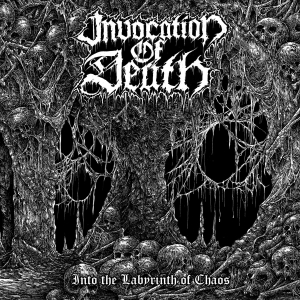 Album Title:
Into The Labyrinth Of Chaos
Release Date:
Thursday, October 18, 2018
This review deals with a release that is almost archetypically ancient, yet still… When I think that something is worth getting any additional support or attention, I'm yours…
In 2008, a couple of Metal heads from El Salvador (an underestimated yet promising and interesting country when it comes to Death Metal) formed a band called Antares Death. I have no idea about their international 'popularity', but in their home country, they were (and still are) quite notorious. In 2017, Antares Death changed their name into Invocation Of Death, and Into The Labyrinth Of Chaos is the first (and sole, until now) official recording under this new moniker.
Into The Labyrinth Of Chaos was recorded at the Devil's Eye Studio in San Salvador (the capital of El Salvador) in 2017 and 2018. The mix was done at the SpareRoom Sound Studio with Inert's Xavier Aguilar, the mastering at Toxic Basement Studio by Carlo Altobelli. The result got released in a partnership in between GrimmDistribution from Ukrainian soil (part of the Satanath Records / Symbol Of Domination Productions family, which also released material from e.g. Disorder or Conceived By Hate, which are bands that share members with Invocation Of Death) and Morbid Skull Records from the band's home country (also home to e.g. higher mentioned Disorder and Conceived By Hate, or acts like Destroyer Attack, Morbid Stench and Witchgöat, that also include and share members). The compact disc edition is limited to 500 copies and includes an eight-folded booklet with the lyrics (in both English and Spanish) and terrific black-and-white visual art. Besides, there are two very limited cassette versions too (red and black), as well as, evidently, a digitally downloadable one.
Line-up, purely informative: Josif (vocals and drums, song writing and lyrics, and cover concept), J.P. (guitars), Morbid Miasma ('chaotic chords' and recording; he owns / manages the Devil's Eve Studio), and C.M. ('bass of doom'). Morbid Miasma and Juan Pablo, by the way, are no part of the permanent line-up anymore.
What these guys bring (brought) does not sound familiar to the Middle-American scene at all. TO be honest, if I did not know that this band consisted of members from e.g. Disorder, Morbid Stench or Conceived By Hate, I would have sworn that they came from Sweden. And you know, this goes for both song-writing / performance and for sound.
Let's start with the sound. That one is great, I mean, the mix is top-notch in all aspects. All instruments are equally divided / represented: leads and rhythm instrumentation, strings, drums and vocals; everything acts in such natural symbiosis, organic in essence, pure in execution. The production is decently clean, well-balanced, yet still maintains a sharp-edged, barb-wired brutality, and that is something this specific kind of Sonic Pleasure needs. It lacks of surgically precision, focusing on narrow-minded details; on the contrary, the recording shows a fine mix of brutality and aggression at the one hand, yet with a deeply-thought subtlety too.
The song writing and execution… Well, what if I start with listing up some names from Old: Nihilist / Entombed, Dismember, Carnage, Utumno, Vomitory, Unleashed, Grave, Hypocrisy and Unleashed, for example. Indeed, that is exactly what I am talking about. Invocation Of Death simply pay tribute to that glorious old school trend, hailing the ancestors of the scene, and still bringing something that is quite unique in some way. No, I am not going to pretend that these guys reinvented the scene. They do not. They play stuff in the vein of the bands I did mention. But they are not some cheap copycats either (at all!). Actually, I think that Invocation Of Death have recorded (one of) the best release within this specific genre in many decades! Nowadays, we have just a limited couple of bands that equal this level (Entrails, Zombiefication, Remains, you know, are some of the few bands that are worth being mentioned), so please do welcome this Salvadorian act in case you like the Swedish scene. They are worth it!
You know, quite everything fits: the depth of the grunts, the many changes in tempo, that specific guitar sound, the huge dose of creative riff adaptations, the grandiose sound quality (oh, I love it when the bass lines get such prominent role in the whole story), and so on. Seriously, this album shows craftsmanship and professionalism. Forget about being renewing or original. If some of the initial bands from that scene faded away into poppy nonsense, or total oblivion, we need a new breed. So, say hello to Invocation Of Death and embrace their labyrinth of chaos…
https://grimmdistribution.bandcamp.com/album/027gd-invocation-of-death-into-the-labyrinth-of-chaos-2018
http://satanath.com/distro/item/027gd
http://satanath.com/news/item/invocation-of-death
https://morbidskull.bandcamp.com/album/into-the-labyrinth-of-chaos
https://www.concreteweb.be/reviews/disorder-0
https://www.concreteweb.be/reviews/disorder-1