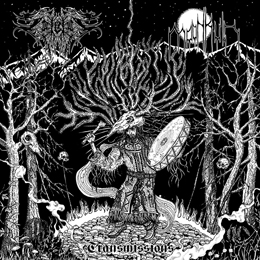 Release Date:
Monday, December 22, 2014
Transmissions is a split-album by a Finnish and a Hungarian project. The album lasts for almost fifty minutes and gets released via mighty Russian Satanath Records, once again in co-operation with two other highly professional labels: Metallic Media and Black Plague Records.
The first three compositions, clocking about seven minutes each, are performed by Finnish duo Moonkult, a young entity which includes Azaghal / Kingdom Of Agony's Kai 'Niflungr' Karpinmaa. They released a full length in 2013, called Profane Nightmares Of Seers (Misanthropic Art). Within the very same vein, they continue right here.
Dark Enslaver Of Prophets starts as a perfect example. It's rhythmic and melodic, harsh and pushing-forward. The focus lies on the guitar riffs and ugly throat (with a certain echoing effect), but with quite a prominent presence of artillery drum patterns and low-tuned bass rhythms too. Nice is the variation in speed and structure (without losing cohesion), and I do appreciate the sound as well; though I am pretty sure some might detest it. The production indeed is minimal and down-earthed, but I guess that expresses the malignant emotions of this stuff. Okay, within the mix the drums might have been less pronounced, and I think the bass lines and guitar melodies could have been placed more on the foreground. That's a certain incorrectness that deflowers the joy. But the rawness certainly strengthens the morbid ideas and concepts.
7,5/10
----------------------------------------------------
The four other tracks, lasting in between five and nine minutes, are courtesy of Solus, a solo-outfit by Hungary-born David Vadkerti-Tóth, who resides in Germany nowadays. In the past eight years, Solus did release several mini-recordings, especially in split-edition, and one month ago the first full length saw the light (or better: the unlight), also via Satanath. A review on that debut full album will follow, of course.
This project's part starts with Shadows Of The Silver Moon, which initially opens with an eerie, somewhat floating introduction, based on distant and hypnotic guitar lines, rhythmic drum patterns and mournful-atmospheric synths. After a short while, grunting spoken words join, and slowly on the core of this project appears on the surface: an entity / expression of melodic and atmospheric, integer and introvert, melodious and slow-paced Black Metal with a hidden yet not unfindable DS-attitude. Cursed Illusions is much faster, at least within several parts, and adorable are the pronounced bass lines that appear from time to time. Aural Destruction, then again, starts very creepy, eerie, mesmerizing, with a fabulous opening sequence, though being and nihilistic and minimal as melodious. When at first the gurgly voices join in, the spheric guitar leads, and then the oppressive and powerful greatness being a certain wall of sound, I am pretty convinced that this act is something not to ignore. The fourth and last piece (Journey Through The Spheres Of Eternity) is more up-tempo and energetic than the former one, and there is a sense of Nordic grotesquery within the riffing – and then I am thinking about some Hades / Kampfar / Forgotten Woods-stuff from Old Times…
Here too the sound quality could have been better, much better. Underground, okay, but it's the final mix once again that leaves me little hungry, unsatisfied. I wonder about that production quality on the upcoming full length; it might have quite an important influence on the (totally subjective) score…
8,5/10