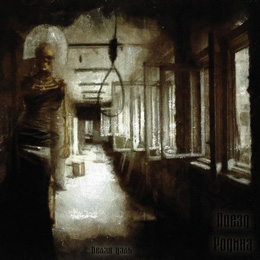 Release Date:
Tuesday, December 16, 2014
Poezd Rodina (aka Поезд Родина) are a young project, formed in 2014 by a guy from Russia and one from Ukraine. Both of them, Andrey Tvorogov (instruments) and Evgeniy 'Eugene' (vocals) play together under the name Montes Insania too, another superb act on Satanath Records. There will be a review on Montes Insania too in a near future, by the way.
Belaya Dal' (actually: Белая даль, and meaning something like 'white distance') is the first release for the duo, and it lasts for one hour. It's a form of Funeral Doom, yet with a very specific identity. In general, the pieces on this album are enormously 'atmospheric', with lots of changes in structure. There is a certain mechanical background, which has to do with the drum computer especially, I guess, as well with the industrialized elements and little machinery guitar sound. But there is a lot of floating ambience too, mainly provided by the mesmerizing guitar leads and varying synth passages. When coming back to those synths, well, they play quite an important role on this album. Sometimes they create a hypnotic background sphere from the deepest pits of our earth (read: from the darkest parts of our mind), then again they are rather spacy, integer or of the bombastic kind.
The vocals of Eugene are truly 'deep', spawned from the most gassy depth of his belly, with once in a while a 'clean' intermezzo or a painful scream. This kind of growling totally fits to this type of unhappy Aural Art, but one cannot understand any word (probably, in my case, it has to do the fact that I do not speak Russian ;-) ). But I ask myself: would a 'traditional' death grunt create more depth or power? But it does not matter, for it sounds all right.
However, sometimes it sounds too much like a cacophony, an unstructured collection of great ideas yet without a global vision. Andrey has some fabulous ideas and intentions for sure, but the finalisation lacks of coherence. It's a pity, but I would rather call it the result of trying to release this material too fast. I am sure that the next effort, if taken care of with tranquillity and calmness (and with a better production!), will get rid of those sad details.