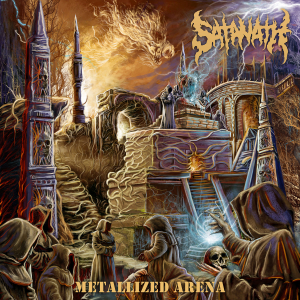 Release Date:
Wednesday, April 27, 2022
I do not feel like spending too much time on this project's introduction this time. As you might know, Satanath is the name of Aleksey Korolyov's longest-running (originally formed in 2011 in Saint-Petersburg) solo-outfit that shows a frenzy vision on sonic creativity, in contrast to 'Metal' Music in general. This guy runs some widely open-minded labels within the more extreme Metal genres and… Ah, as said, you know what I am talking about (or otherwise check out one of the reviews I did before [see links below] or the Bandcamp or official pages involved!).
This review deals with another re-issue under the Satanath-moniker, Metallized Arena, which was initially self-released in 2012 as digital effort; consider it an anniversary-present from this artist to the audience. This physical re-issue gets released in a pseudo-romantic partnership (I mean, both labels have a lot of mutual releases on their stunning rosters) in between Aleksey's (main) label Satanath Records (currently from Georgian soil) and More Hate Productions (Russia). The compact disc (jewel-case edition) comes in an edition of 500 copies, which includes a four-page booklet with renewed artwork, and which comes with no less than seven (!) additional bonus tracks. It makes the total running time clocking almost eighty earthly minutes.
Even though there is sort of a 'link' in between all Satanath recordings, each single one does differ from any other at the same time. This totally goes for this album too (and the bonus songs, initially recorded at the same period as the ten original pieces that made it to this 2012-album), being recognizable for the project, yet bringing something totally different at the very same time.
The bio / promotional flyer gave 'Ambient Post-Metal' as description. I do agree, so I can end my review right now, telling that Metallized Arena indeed brings this unique musical niche. So, thank you for reading, see you next time…
No, it would be an insult not to go little deeper into the subject, for there is more to experience within, and behind, and through, this Ambient Post-Metal experience, much more… If I would just analyse the opener, Lethal Exekution, one might understand the unique, abundant attitude, as well as the proposed 'genre'. It starts with deep-rumbling string-based drone-work, slow and dark in nature, with a certain, well, a certain 'thing' that sort of combines the creepy sounds of P.H.O.B.O.S. with the sonic industrialisation of Pitch Shifter, yet then again translated into a language only Aleksey knows. Stripped-down from any theatrical finery. Doomed… Hypnotic… Surreal… These bass-driven melodies, multi-layered and sludgy in sound, are accompanied by pushing, repetitive drum-programming and percussions (that repetitive character strengthens the mesmeric approach with a subtle hint of horrific elegance), and once in a while a spacy injection. And on top of it – and this explains the 'Ambient' element within the description, intoxicating, anaesthetizing synths join. The short finale of this track, for example, is like a semi-cinematic fragment of Winter Synth and Dark Ambient.
The better part of the album dwells within the aural regions I just explained. But there is a huge scala of additions and subtly hidden details: jazzy interludes, exotic (cf. certain parts in pieces like Viva La Christmo Endless or Rational Illusion) and machinal elements, supplemental noises and sounds (field-recorded ones inclusive, often with animal sounds), allusions of Noise Rock (Abigor Room, for instance, with progressive segments, Oriental samples and a Horror Ambient-oriented intro), Krautrock and Space Rock, and so on. Well-balanced structures get interspersed by dissonant textures and chaotic interludes (listen to the industro-grinding lullaby Kill The Witch, for example), while the Post-Metal shapes are quite frequently covered in an electronic, often catatonic veil. Also portions of anarchic Space Ambient / Psybient (Slatanic Gravetation a.o.) or Progressive Metal pass the revue. …and much more…
All this goes for the original 2012-album as well as the bonus-songs. The result is a challenge for the listener, a confrontation with endurance, open-mindedness and persuasion, and absolutely a hard-to-digest sonic experiment. But it is more than just a collection of frantic demonstrations, for the ingenious song-writing, and the ability to combine exaggeration with a balanced elaboration, is above expectation. Besides, the sound-quality is thick and nicely produced, which fortifies the outcome.
Dedicated to Juraj Haríň (Immortal Souls Productions and Slovak Metal Army) and Den Noiser (of Mare Desiderii and Omutt fame), who both left our planet to join our gods and ancestors…
http://satanath.com/releases/item/sat349.html
https://satanath666.bandcamp.com/album/metallized-arena
https://satanath.bandcamp.com/album/sat349-satanath-metallized-arena-re-release-2022
http://www.morehate.com/bands.php?id=257
https://www.concreteweb.be/reviews/satanath
https://www.concreteweb.be/reviews/satanath-0
https://www.concreteweb.be/reviews/satanath-1
https://www.concreteweb.be/reviews/satanath-striborg
https://www.concreteweb.be/reviews/hulduefni-i-am-esper-paleozoic-satanath