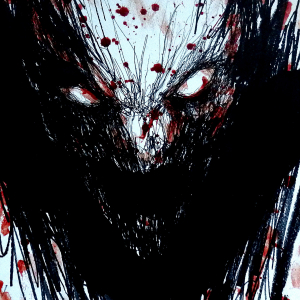 This time I am not going to give a 'full biography', for I'd like to refer to one of the other reviews I did for this Swiss project (links below) or, for additional info, for any other review I did for several other projects that involves Monsieur Sergio 'Bornyhake' Da Silva.
I'd rather go to the content, being Enoid's latest album, 2020's Négation Du Corps ('negation of the body'; characterised by neuro-muscular, emotional and other physical and sensory malfunctions). This one was recorded in 2019 in Bornyhake's own Chaos Studio. It got released on compact disc in a partnership of Dutch label The Ritual Productions and Russia's finest Satanath Records (once again; both this label -and the sister-labels- and the artist behind Enoid did cooperate several times before), coming in a jewel-case version with a sober eight-page booklet. That one includes the lyrics, which are in French, and with extremely malicious cover artwork by Maxime Taccardi (one of the most impressive visual artists at this very moment [and a great musician too, but that's another story]). The layout, FYI, was taken care of by Satanath's Aleksey.
Those trusted with Enoid's sonic play might have a clue of what to expect from Négation Du Corps. Yet then again, Bornyhake shows another side of this specific project too. It's like a building: foundations rooted in the Old School, a ground floor characterised by melody, a first floor build around aggression and energy, and an attic filled with misanthropic visions and pessimistic prophecies.
The better part is like a storm (damn, 'a building', 'a storm'; I'm losing myself in metaphoric poetry…), with lightning-fast rhythms, thunderous song structures and the unescapable power of a whirlwind, an all-devastating tornado, causing a tsunami of noise. Remarkable is the ability – and this is a precious combination, a delicate balance – to combine such overwhelming brutality with such subtle yet perspicuous melodic approach. Enoid somehow are able to make this equilibrium look organic and evident.
Very remarkable, however, is the opposite in tempo. As said, a big part of the game is based on unstoppable fastness. It's a long-time trademark courtesy of this project. But more, much more, than ever before, Enoid come up with slower passages; once in a while even doomed-up. All former material included some slower passages too, but Négation Du Corps has a remarkable amount of slower excerpts, and even whole compositions that pull and drag. And you know: it works! Damn, it's not that playing slower means losing persuasion or insolence. …at all! No, that equipoise of ultra-fast and tardy moments creates an insatiable hunger, making the listener crave for more.
Another 'progression' is, as far as I am concerned, the progressed song writing and performance. As mentioned before, there is a huge influence of old-style supremacy. The initial inspiration by the Second Wave did not fade away. Enoid's approach has never been like a copycat edition of the Nineties; this project has always brought up an own-faced identity. This goes even farther this time, with a rather timeless execution. And of course, the splendid production assists with that increased feeling of universal and timeless elegance. The sound has a rough edge, a necrotic, sharp and rusty tangle somehow. It's not a secret that old schooled Black Metal must have (and with 'must', I mean 'MUST') that raw approach instead of a surgically clean production. But sometimes that sound turns out to be way too under-produced (that was also the case, for example, with Enoid's older material, like on the split with Dizziness and Mortuus Caelum). This album however has that unpolished sound combined with a great mix / mastering.
Or, in short: do not expect a renewing album when listening to Négation Du Corps. But if you adore somewhat orthodox yet, at the same time, eccentric Black Metal with a negative message, then this album must become an aural satisfaction.
https://satanath.bandcamp.com/album/sat279-enoid-n-gation-du-corps-2020
http://satanath.com/releases/item/sat279
https://enoid.bandcamp.com/album/n-gation-du-corps
https://www.concreteweb.be/reviews/mortuus-caelum-enoid-dizziness
https://www.concreteweb.be/reviews/enoid
https://www.concreteweb.be/reviews/my-death-belongs-you
https://www.concreteweb.be/reviews/pure
https://www.concreteweb.be/reviews/ancient-moon
https://www.concreteweb.be/reviews/cryfemal
https://www.youtube.com/watch?v=d8blupcNHho
https://www.deviantart.com/priestofterror